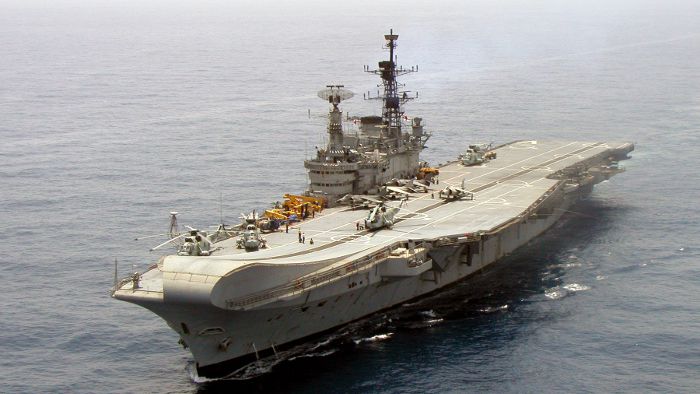 On Monday, India decommissioned its oldest aircraft carrier, the 1959-built INS Viraat. The venerable ship served the UK Royal Navy as the HMS Hermes until 1984, and she was commissioned into the Indian Navy in 1987. If drydocking and storage intervals are included, she was in service for nearly six decades, making her the world's oldest serving warship. 
At sundown at the Mumbai dockyards, in the presence of former Royal Navy and Indian Navy crewmembers, her ensign was lowered for the final time. Top officials from the Indian Navy were in attendance, as was the British First Sea Lord, admiral Sir Phillip Andrew Jones.
Former Royal Navy airman Andy Trish told India Today that the ceremony brought back memories of his service in the Falklands War. "This ship is still very beautiful. We were at war for days on end. This aircraft carrier played a pivotal role in the war. Aircraft were flown from this deck. I got to sleep on the very same bed as I used to sleep while serving this ship," said Trish.
The Viraat's keel dates to the final days of World War II, when the first steel was cut for what would have been the HMS Elephant, the fourth of the Centaur-class light fleet carriers. However, when the war ended she was not needed, and her partially-finished hull sat idle until 1952. In the mid-50s, the Royal Navy redesigned her topsides and finished her as a more modern vessel, with an angled flight deck and newer radar equipment. 
Even so, just ten years later she was on the verge of obsolescence: she was not large enough to handle increasingly powerful fighters like the F-4 Phantom, and the Royal Navy refitted her for a "commando carrier" role, removing her arresting gear and catapult and adding accommodations for troops and landing craft. In 1981, she received her distinctive ski-jump ramp, which allowed her to deploy the Sea Harrier V/STOL fighter.
The Hermes took on her Harriers just in time for the Falklands War, and she served as the British flagship during the conflict. After her return from the Falklands, she was deemed surplus to the Royal Navy's needs, and she was refitted and sold to the Indian Navy. In the late 1980s, she supported the Indian intervention in the Sri Lankan civil war, and since then she has participated in numerous patrols and joint exercises.
The Indian government has not yet finalized plans for her ultimate disposal. Last year, the chief minister of Andhra Pradesh suggested that the vessel should be turned into a hotel and conference center through a public-private partnership, but on Monday, Indian Chief of Naval Staff Sunil Lamba told media that the final decision on her fate has not yet been made. 
http://www.emaritimeexchange.com/wp-content/uploads/emaritime-exchange-logo-2017-300x119.png
0
0
George Ward
http://www.emaritimeexchange.com/wp-content/uploads/emaritime-exchange-logo-2017-300x119.png
George Ward
2017-03-06 23:31:00
2017-03-06 23:31:00
World's Oldest Serving Warship Decommissioned