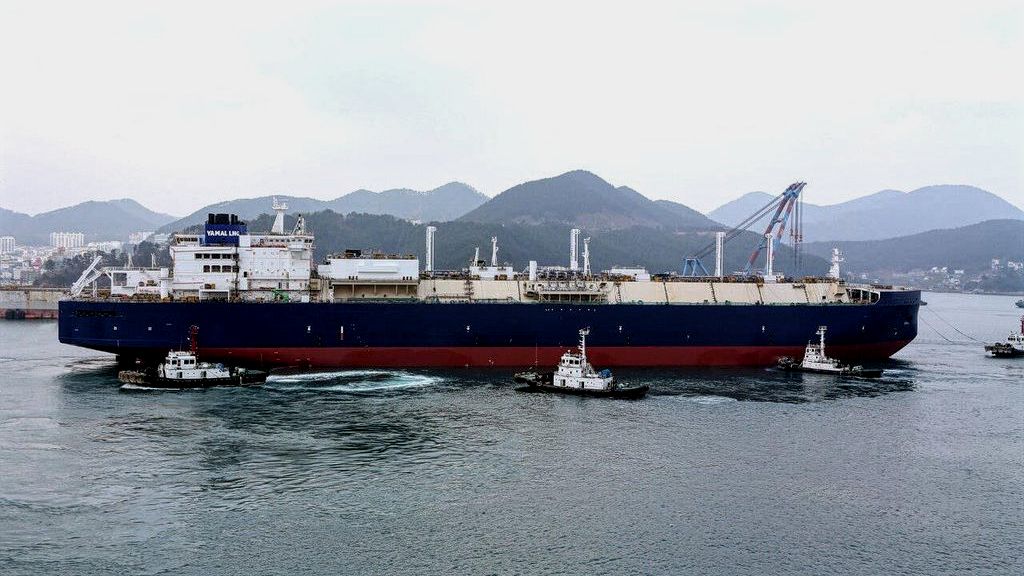 The Margerie at DSME (file image)
The world's first ever icebreaking LNG carrier, Sovcomflot's Christophe de Margerie, has arrived in Zeebrugge, Belgium in preparation for sea trials. She is moored alongside a regasification terminal, and she will be cooled and loaded with a small quantity of LNG for testing. 
The Margerie was built by Daewoo Shipbuilding and Marine Engineering to the Russian Arc7 ice class standard. She and her fourteen sister ships are designed to break through up to six feet of ice without assistance from an icebreaker escort, enabling them to call at the remote Yamal LNG facility during most of the year. Each vessel in the class will each be able to carry 70,000 tonnes of LNG per trip (about 0.4 percent of the plant's annual capacity) at a sea speed of 19 knots. 
The gas is already sold to European and Asian buyers under long-term contracts, says project partner Total. In the summer, the tankers will carry the LNG eastward along the Northern Sea Route, through the Bering Strait and south to Japan and China. In the winter, the gas will go to a transshipment terminal in Zeebrugge, where some of it will be reloaded onto standard LNG carriers for a trip through the Mediterranean, the Suez Canal and Indian Ocean. 
Yamal LNG will be among the northernmost oil and gas facilities in the world. Winter lasts for 8-9 months on the Yamal Peninsula, but halting work due to the cold and the dark is not an option. Earlier this month, the module carrier Audax became the first vessel of its kind to transit the Northern Sea Route in winter, delivering a large equipment module for Yamal LNG. "It is slow-going and the ambient temperature is -25 C," said ZPMC RedBox Energy Services CEO Philip Adkins. 
The remote location and the extreme environment impose additional expenses on the project's developers. The icebreaking LNG carriers alone will cost a combined $5 billion to acquire, and will be operated by Sovcomflot under fixed 25-year time charters. Multiple shipowners, including Teekay and Sinotrans, have made investments in the vessels.
Despite these expenses, facility developer Novatek says that the cost of Yamal's natural gas is so low that it will offset the higher transportation and construction costs, and that its LNG will still be competitive with the gas sold by competitors in milder climates.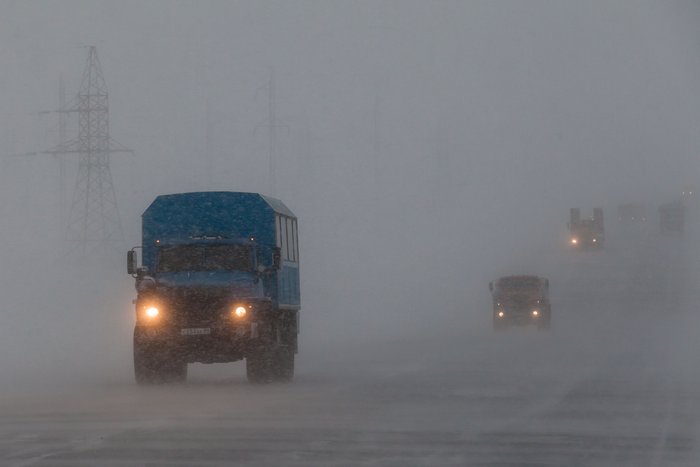 Facilities and conditions at the Bovanenkovo gas field, which supplies Yamal LNG (Gazprom)
https://www.emaritimeexchange.com/wp-content/uploads/2016/02/emaritime-icon-1030x1030.png
1030
1030
George Ward
http://www.emaritimeexchange.com/wp-content/uploads/emaritime-exchange-logo-2017-300x119.png
George Ward
2017-01-27 19:00:00
2017-01-27 19:00:00
World's First Icebreaking LNG Carrier Begins Trials