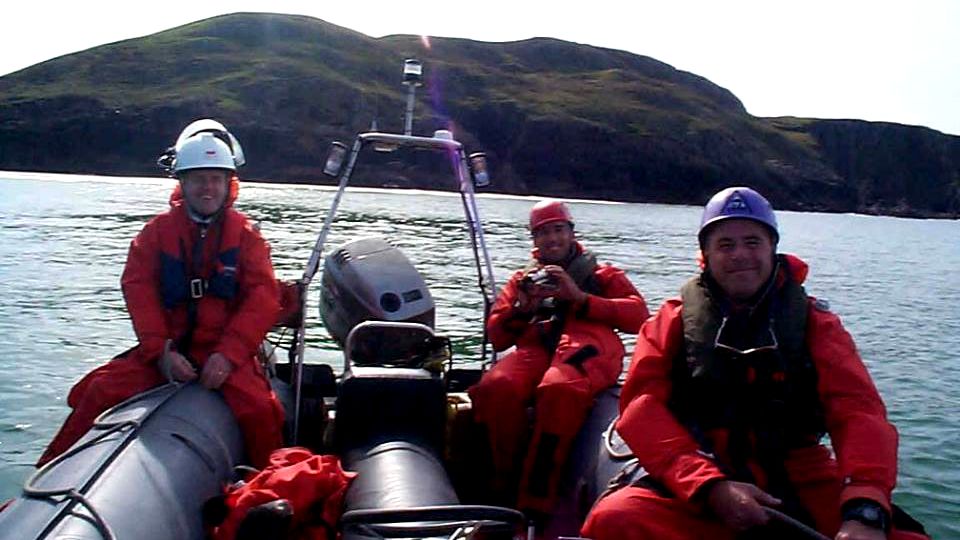 Durness coast guard volunteers at a training, 2000 (file image via social media)
Until recently, the Scottish village of Durness had a seven-member volunteer coast guard unit. No more: all of its members have resigned, citing excessive bureaucracy and insufficient training. 
Over the years, the team has saved lives, performing shoreside searches, cliff rescues and staffing a helicopter landing site. But the unit's leader, Alex Morrison, told UK media that the latest regulations from the Maritime and Coastguard Agency were making it too hard for the group to work and train. Morrisson says that after nearly four decades of volunteer service, he is no longer allowed to even set off a smoke flare. 
"We were getting more and more paperwork and less and less practical groundwork, which is what we needed," Morrison said. "In my opinion, we were undertrained and, in this day and age, if something goes wrong, your head is on the block."
A spokeswoman for the MCA said that the Kinlochbervie coast guard team – 12 miles away, on the other side of Cape Wrath – would be taking over the Durness area of responsibility. She added that the agency would be meeting with the Durness volunteers in the coming week to see if they could work out a solution. 
"We will be working with the Durness CRT towards a resolution in this case and would like to assure the local community that, if they call 999 and ask for the coastguard, they will receive the same life-saving service they always have," the spokeswoman told Scotland's Press and Journal. 
Durness volunteer and local council chairman Scott Macpherson had a different take. "It is a slap in the face. They have wrecked the team with needless bureaucracy and lack of support. I don't think it can be salvaged and leaves a big hole in emergency rescue provision in the area," he told Metro UK.
http://www.emaritimeexchange.com/wp-content/uploads/emaritime-exchange-logo-2017-300x119.png
0
0
George Ward
http://www.emaritimeexchange.com/wp-content/uploads/emaritime-exchange-logo-2017-300x119.png
George Ward
2017-02-07 01:23:00
2017-02-07 01:23:00
Volunteer SAR Team Resigns Over Paperwork