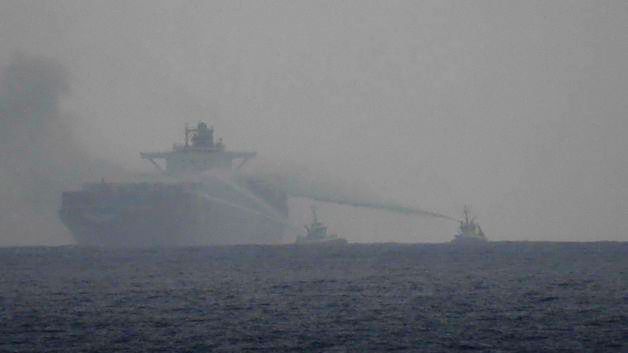 On Monday, tugs and shoreside firefighting teams in Port Elizabeth, South Africa battled a container fire aboard the 6,000 TEU box ship APL Austria.
The Austria was arriving at the anchorage in Algoa Bay when she reported the blaze. The response teams met her out at the anchorage, but they later decided to move her to the pier at Port Elizabeth. 
The fire is amidships in a container stack, well forward of the deckhouse, and all crew are safe and accounted for. Four nonessential crewmembers were evacuated, according to the non-profit sea rescue organization NSRI; one of the evacuees had a leg injury and was treated on shore. 
First responders from the national port authority and officials from the South African Maritime Safety Authority (SAMSA) are one site to oversee the firefighting effort.
[embedded content]
Isle of Man ferry hits ramp
On Sunday night, the ferry Ben-my-Chree struck a wharf and a ramp during docking at Douglas Harbor, Isle of Man. Wind speed at Douglas was "significantly stronger than expected," a spokesman for Isle of Man Steam Packet Company told the BBC, and the ship drifted and made contact with the dock.
The impact tore away a section of the ferry's railing on the main deck and ruptured a waterline.The operator said that divers were inspecting her hull for damage, and that if all goes to plan the vessel should be back in operation by the end of the week. 
[embedded content]
Sailings will be disrupted, but the firm said in a statement that they would bring service back to normal as quickly as possible. 
The Steam Packet Company fast ferry Manannan also struck the pier at Douglas in 2016, injuring five passengers and leaving a gash in the vessel's port bow. The firm said that a "system control failure" was responsible for the allision. 
In 2015, the company and the UK Department of Infrastructure entered into talks intended to improve the "resilience" of the ferry service to the Isle of Man. That year, the Manannan struck unidentified debris in the water and badly damaged her steering gear, putting her out of commission for a week. It was the firm's 17th instance of major damage to a vessel in less than ten years, according to the BBC. 
http://www.emaritimeexchange.com/wp-content/uploads/emaritime-exchange-logo-2017-300x119.png
0
0
George Ward
http://www.emaritimeexchange.com/wp-content/uploads/emaritime-exchange-logo-2017-300x119.png
George Ward
2017-02-13 18:44:00
2017-02-13 18:44:00
Videos: APL Austria Catches Fire, UK Ferry Hits Dock