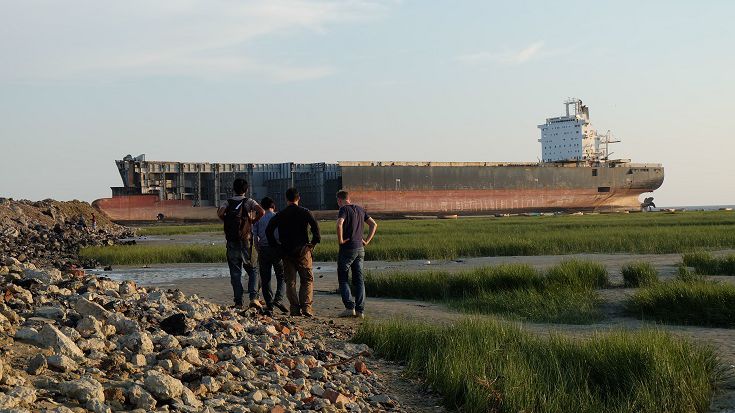 File image courtesy NGO Shipbreaking Platform
NGO Shipbreaking Platform has released its annual analysis of vessel demolition activity for 2016, and it contains surprising results. Chinese owners scrapped the highest percentage of their vessels using the safer drydock and pierside methods – about 40 percent – while all others overwhelmingly favored beaching, by a much higher margin than in years past. Nearly 90 percent of the world's scrapped tonnage went onto the beach in 2016, with the largest proportions from German and Greek owners (98 and 87 percent respectively). 
"It is not the first time that shipbreaking workers pay with their lives for the failed business practices of German ship owners and their ship funds. Due to numerous bankruptcies resulting from short-sighted and high-risk investment, insolvency administrators appointed by the courts quickly trade the unprofitable ships to the beaches of South Asia, and the bill for the shipping industry's greed is paid by people and the environment," said Patrizia Heidegger, the group's executive director. "Beaching yards are not only well known for their failure to respect international environmental protection standards, but also for their disrespect of fundamental labour rights and international waste trade law."
Government suspends beaching at Gadani
The chief minister of Balochistan, Sardar Sanaullah Khan Zehri, told Pakistani media Friday that the arrival of vessels at beaching yards at Gadani has been suspended. Demolition of vessels already on the beach will continue. 
An explosion and fire on the FPSO Aces killed at least 26 workers in November, with many more injured, and a fire on January 9 on the Greek-owned LPG tanker Gaz Fountain killed another five. Unions and activists have called for reform and improved labor conditions before work resumes; yard owners successfully petitioned to lift a previous ban in December.
Asbestos' effects on Bangladeshi shipbreaking workers
Researchers with the Bangladesh Occupational Safety, Health and Environment Foundation (OSHE) recently found that one third of the country's shipbreaking workers may be affected by asbestosis – a form of serious lung damage caused by exposure to asbestos. 
In a sample of 101 workers, 33 exhibited symptoms of the disease, which is characterized by the scarring and hardening of lung tissue. It is not necessarily fatal, but it is a risk factor for mesothelioma and lung cancer – especially when combined with smoking, which is popular in Bangladesh. 
"People with extensive occupational exposure to the mining, manufacturing, handling, or removal of asbestos are at risk of developing asbestosis," said Dr Murali Dhar, speaking to Dhaka Tribune. "In Bangladesh, ship-breaking workers are at high risk. Symptoms are manifesting in workers who have been working for about 10 years."
http://www.emaritimeexchange.com/wp-content/uploads/emaritime-exchange-logo-2017-300x119.png
0
0
George Ward
http://www.emaritimeexchange.com/wp-content/uploads/emaritime-exchange-logo-2017-300x119.png
George Ward
2017-02-03 22:50:00
2017-02-03 22:50:00
Vast Majority of Tonnage Scrapped by Beaching in 2016