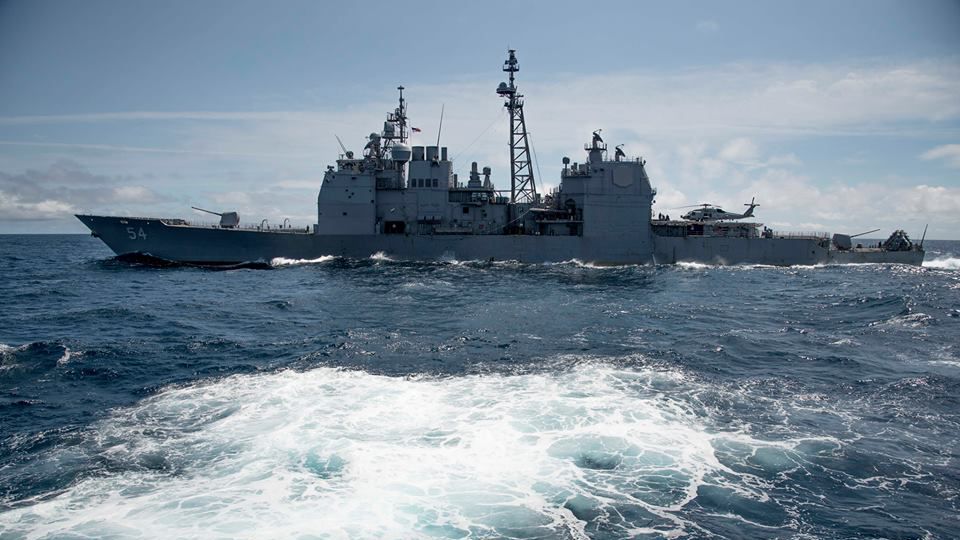 USS Antietam (USN file image)
On January 31, the Ticonderoga-class guided missile cruiser USS Antietam went aground in Tokyo Bay near Yokosuka, damaging her propellers.
A Navy spokesman said that over 1,000 gallons of hydraulic oil was discharged into the bay as a result of the grounding. No injuries were reported. Pacific Fleet said in a statement that the incident occurred while the Antietam was anchoring and that an investigation is ongoing.
Early reports suggested that Antietam dragged anchor due to high winds, but the San Diego Union Tribune provided a conflicting account: sources told the Tribune that the cruiser was getting under way when her propellers struck the bottom. 
"The Navy is still working to determine the exact location that the spill took place and will take measures to minimize impacts to the environment as appropriate," U.S. Pacific Fleet said in a statement. "The Navy is cooperating with the Government of Japan and Japanese Coast Guard in response to this issue."
Antietam has been taken back to Fleet Activities Yokosuka and divers are inspecting her to determine the extent of the damage. 
Captain Joseph Carrigan is the Antietam's commanding officer. He previously served as C/O of the guided missile destroyer USS Russell, and has also held posts in the offices of the Joint Chiefs of Staff and as a Navy Legislative Fellow in the office of Senator Jeff Sessions. 
The Antietam was commissioned in 1987.  She served with distinction in Operation Desert Shield, and has won numerous Battle Effectiveness (Battle "E") awards for superior performance. She is homeported in Yokosuka. 
http://www.emaritimeexchange.com/wp-content/uploads/emaritime-exchange-logo-2017-300x119.png
0
0
George Ward
http://www.emaritimeexchange.com/wp-content/uploads/emaritime-exchange-logo-2017-300x119.png
George Ward
2017-02-01 18:50:00
2017-02-01 18:50:00
U.S. Navy Cruiser Goes Aground in Tokyo Bay