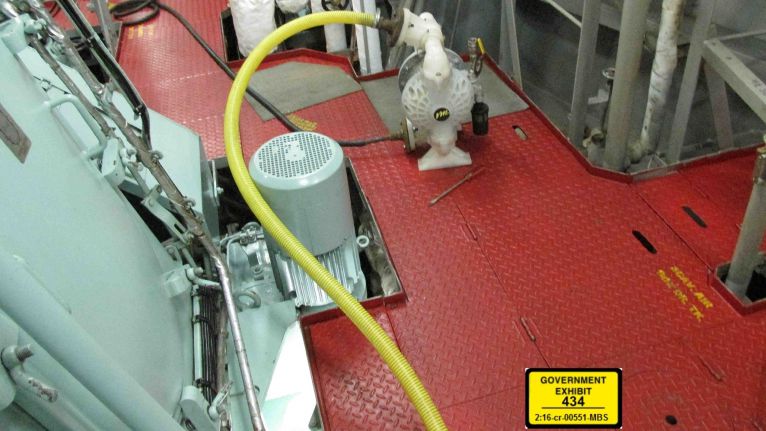 On Thursday, two chief engineers of the chemical tanker Green Sky were convicted of illegally discharging oily wastes, falsifying the ship's Oil Record Book and obstructing justice by making false statements.
Herbert Julian, chief engineer of the vessel in August 2015, was convicted of two felony counts for MARPOL violations and for obstruction of justice. Panagiotis Koutoukakis, who was the chief engineer prior to Herbert's rotation, was convicted of two felony counts, one for MARPOL violations and another for falsifying records. Second engineer Nikolaos Bounovas was acquitted of related charges.
After the verdicts were rendered, the court unsealed documents showing that the Sky's operator had already pled guilty to MARPOL charges, paid a $2 million fine and agreed to probation and a compliance plan. The plea materials were previously kept sealed to maintain the integrity of the jury and witnesses in the engineers' trial. 
In a post-trial statement, the Department of Justice said that the 2014-built Green Sky's engine room generated a large quantity of oily bilge water for a vessel of her age, and to deal with all of the contaminated water, her engineers were in the habit of bypassing the oily water separator with a hose and pumping the waste over the side – a typical "magic pipe" setup. They would falsify the oil record book to cover up the discharges by logging false entries for the oily water separator and the levels of the bilge holding tank.
The Coast Guard learned of the violations in August 2015, when three crewmembers called the authorities in Charleston, South Carolina. When port state control inspectors met the Sky at the dock in Charleston, Herbert Julian attempted to conceal the discharges from them by lying about the location of the ship's sounding log, which can be used to verify the accuracy of the oil record book. Testimony at trial showed that Julian had hidden the sounding log before the Sky arrived in port, and he was convicted on obstruction charges for making false statements to investigators.
The Green Sky's captain, Philippine national Genaro Anciano, pled guily to related charges in February 2016. He provided testimony at the engineers' trial. 
"The Green Sky case stresses the vital importance of USCG environmental protection missions with regard to pollution from ships," said Captain Gary L. Tomasulo, commander of U.S. Coast Guard Sector Charleston. "We are extremely proud of our team of marine safety professionals and the Coast Guard Investigative Service."
http://www.emaritimeexchange.com/wp-content/uploads/emaritime-exchange-logo-2017-300x119.png
0
0
George Ward
http://www.emaritimeexchange.com/wp-content/uploads/emaritime-exchange-logo-2017-300x119.png
George Ward
2017-02-24 18:35:00
2017-02-24 18:35:00
Two Engineers Convicted in Green Sky MARPOL Case