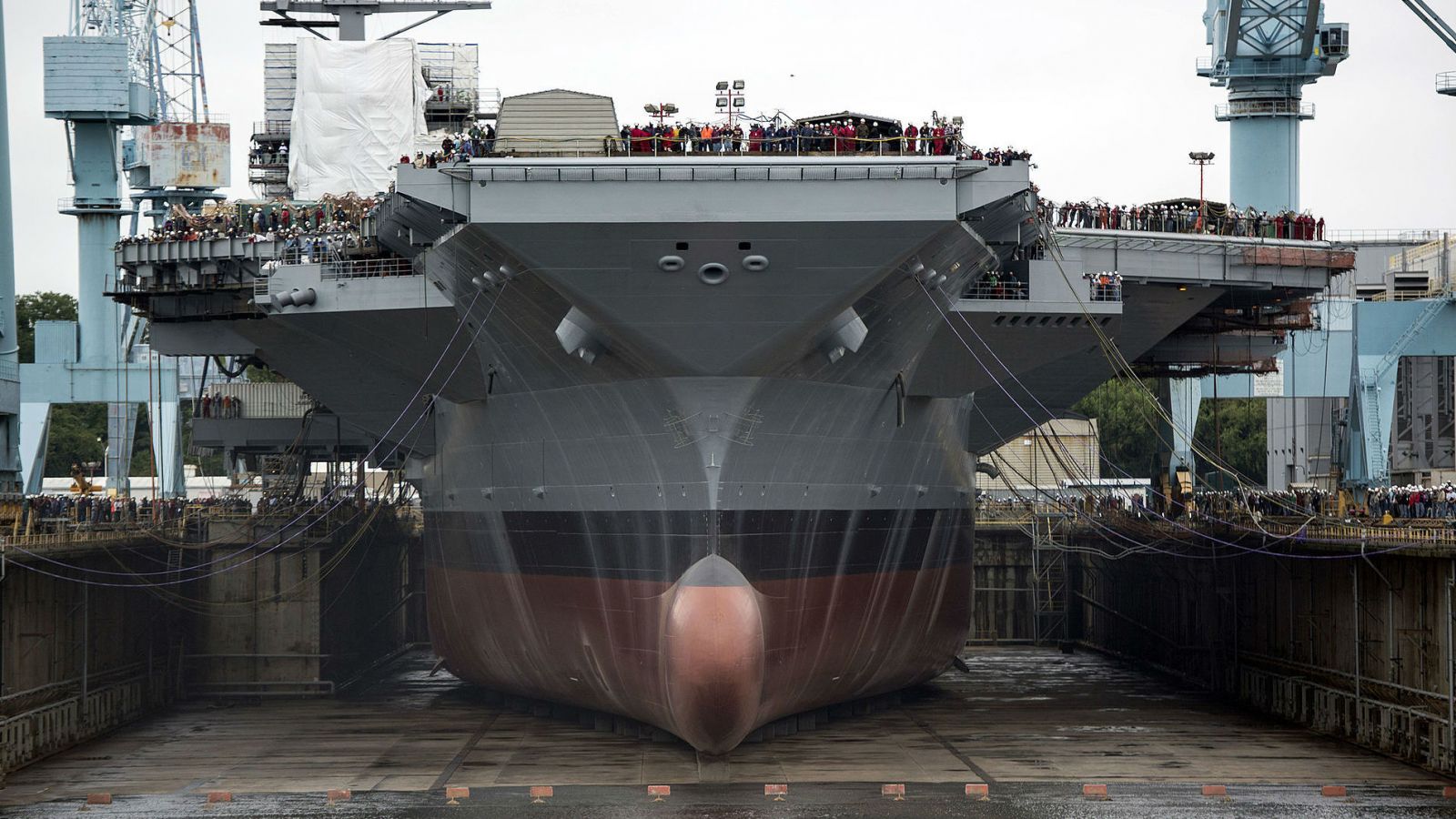 The White House has announced that President Donald Trump is scheduled to make a speech on Thursday aboard the newly built aircraft carrier Gerald R. Ford, which is nearing the completion of systems testing at Newport News.
The announcement of the scheduled stop coincides with news of the president's plan to raise defense spending by $54 billion while cutting other government programs. Trump has previously spoken in favor of a 350-ship Navy, a number that corresponds with the service's latest request for a 355-ship fleet, and Trump said in October that "Norfolk Naval Shipyard is [going to get busier] . . . you're going to be right at the center of the action with the building of new ships."
The $13 billion Gerald R. Ford is the most expensive ship ever built, and she may rival Shell's Prelude FLNG for the title of most expensive floating structure. Her commissioning is several years behind schedule and $2.4 billion over budget due to problems with her new Dual Band Radar, main turbine generators, electromagnetic aircraft launch system and advanced arresting gear. Navy officials said that she would be ready in September 2016, but testing delays pushed back the date into 2017. The Navy reported in January that the vessel was 99 percent complete, and her delivery is now expected at some point in April. If sea trials and operational testing go well, her first deployment will take place in 2021. 
Senator John McCain, the chairman of the Senate Armed Services Committee, has criticized the procurement process for the Ford class, which was designed and ordered during then-secretary of defense Donald Rumsfeld's "Revolution in Military Affairs." Rumsfeld's Defense Department prioritized rapid technological advancement, and critics contend that this strategy pushed immature systems into production before they had been fully tested.
"The Ford-class program is a case study in why our acquisition system must be reformed – unrealistic business cases, poor cost estimates, new systems rushed to production, concurrent design and construction, and problems testing systems to demonstrate promised capability," McCain said in a statement last July. The following month, the Pentagon ordered an independent review into the procurement process for the Ford class.
http://www.emaritimeexchange.com/wp-content/uploads/emaritime-exchange-logo-2017-300x119.png
0
0
George Ward
http://www.emaritimeexchange.com/wp-content/uploads/emaritime-exchange-logo-2017-300x119.png
George Ward
2017-02-28 21:58:00
2017-02-28 21:58:00
Trump to Visit New Carrier at Newport News