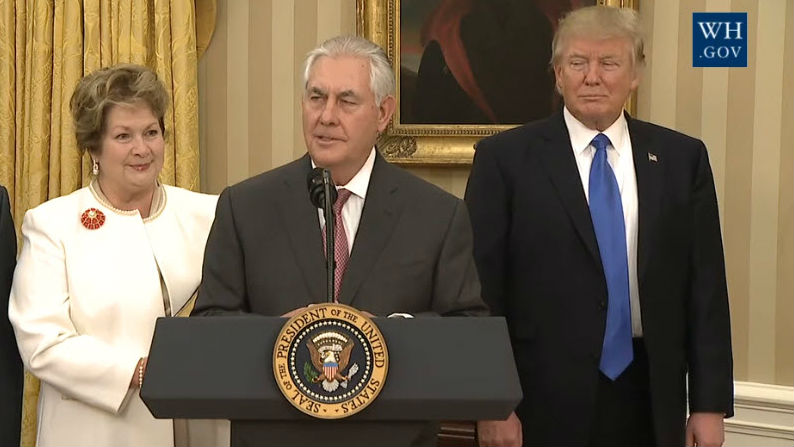 Former head of ExxonMobil, Rex Tillerson, has been sworn in as U.S. Secretary of State.
The Senate vote for his appointment was 56 for and 43 against. 
Tillerson was head of ExxonMobil since 2006 but has now cut ties with the company to avoid any conflict of interest. He is the 69th Secretary of State, and has not held a public office before.
Within hours, Tillerson spoke on the phone to counterparts from Mexico and Canada, Israeli Prime Minister Benjamin Netanyahu and met with German Foreign Minister Sigmar Gabriel, department officials said.
"In all of his conversations, Secretary Tillerson stressed America's steadfast commitment to its key allies and partners as it works to protect the interests and safety of the American people," acting State Department spokesman Mark Toner said in a statement.
U.S. President Donald Trump nominated Tillerson in December saying: "His tenacity, broad experience and deep understanding of geopolitics make him an excellent choice for Secretary of State. He will promote regional stability and focus on the core national security interests of the United States.
"He will be a forceful and clear-eyed advocate for America's vital national interests, and help reverse years of misguided foreign policies and actions that have weakened America's security and standing in the world," Trump said.
Tillerson's relationship with Russian President Vladimir Putin has made the appointment contentious. In 2013, Putin bestowed a Russian state honor, the Order of Friendship, on Tillerson, citing his work "strengthening cooperation in the energy sector."
However, at the time of his nomination, API President and CEO Jack Gerard said: "Rex Tillerson is world class. He has decades of experience working with global leaders and overseeing the creation of thousands of jobs. He understands that American voters want to strengthen our national security, grow jobs, and protect American interests globally. 
"As our nation's next top diplomat, Rex has the strategic experience to effectively represent the new administration and the American people. He runs one of the largest companies in the world that operates in more than 50 countries, oversees over 75,000 employees, and he has first-hand experience working on international issues. His relationships and in particular those with other nations will help further advance U.S. interests across the globe."
http://www.emaritimeexchange.com/wp-content/uploads/emaritime-exchange-logo-2017-300x119.png
0
0
George Ward
http://www.emaritimeexchange.com/wp-content/uploads/emaritime-exchange-logo-2017-300x119.png
George Ward
2017-02-03 05:24:00
2017-02-03 05:24:00
Tillerson Appointed U.S. Secretary of State