A tanker and bulk carrier collided about 15 miles north east of Dover in the English Channel around 2:15am on Saturday. No casualties have been reported, and no pollution.
The incident occurred in the south west channel of the busy main shipping lane between the 48,580 ton, 183-meter (600-foot) crude oil tanker, the Seafrontier, registered in Hong Kong, and the Huayang Endeavour, a 75,000 ton 225-meter (740-foot) bulk carrier also registered in Hong Kong.
Both vessels suffered damage in the collision, with the Seafrontier having a hole above the water line and damage to the superstructure. The Seafrontier is loaded with 37,953 mt of gasoline and has 27 people on board. The Huayang Endeavour is in ballast and has 22 people on board.
Huayang Endeavour was en route to Lagos in Nigeria, and Seafrontier was sailing to Puerto Barrios in Guatemala. The vessels have Chinese and Indian crews on board.
A U.K. Coastguard helicopter and  RNLI all-weather boats responded to the incident. A tug was called to the scene from Boulogne, France, and took the Seafrontier under tow. The U.K. Coastguard Channel Navigation Information Service has continued to work throughout the incident and is ensuring the safe passage of vessels through the Dover Strait Traffic Separation Scheme.
Weather conditions at the time were a calm sea with moderate winds.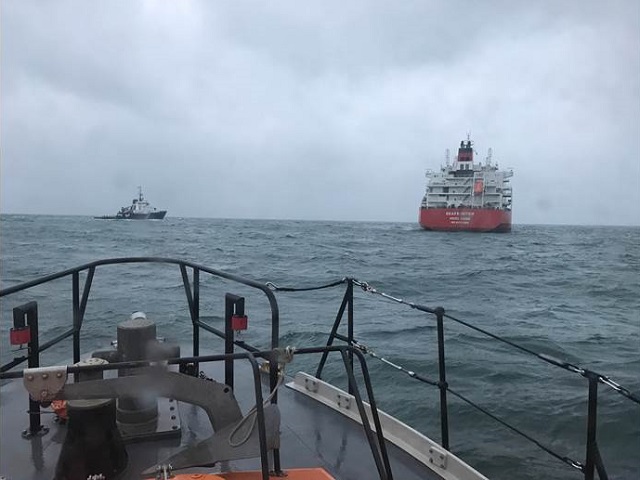 https://www.emaritimeexchange.com/wp-content/uploads/seafrontier-damage-credit-rnli.jpg
480
640
News Update
http://www.emaritimeexchange.com/wp-content/uploads/emaritime-exchange-logo-2017-300x119.png
News Update
2017-07-04 07:37:54
2017-07-04 07:37:54
Tanker and Bulker Collide in English Channel