[Brief] Over the weekend, a storm drove five cargo vessels ashore in Sharjah and Umm Al Quwain in the United Arab Emirates. Additionally, one vessel went down off Sharjah, with four seafarers rescued, three confirmed dead and an unknown number still missing. The name of the sunken vessel has not been released. 
"It will take some time until the ships are removed. The sea is still rough and it might affect the removal," said Mubarak Al Shamsi, director of Al Hamriyah Municipality, speaking to UAE's The National. "Our teams have made sure that there are no spills from these vessels that might affect the environment."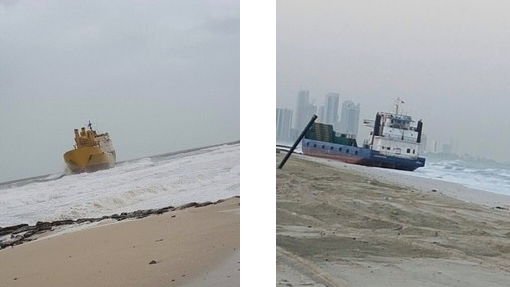 The UAE coast guard rescued the crews of the five grounded vessels with no injuries or loss of life, and the seafarers are awaiting permission to fly back to their home countries. 
The groundings are reminiscent of a series of marine casualties off Al Hamriyah in 2011-2013, all caused by foul weather and all in the first three months of the year – the worst season for storms off the northern coastline of the UAE. In February 2011, two vessels went aground in the area, and in January 2012, two vessels off Hamriyah sank within one week. In March of 2012, a storm drove two barges onto the port's breakwater and pushed another two vessels onto the beach at Ras Al Khaimah and Khor Khuweir; two more vessels were torn adrift from their moorings. In 2013, the freighter Sea Blue went ashore at Al Hamriyah in a storm, and was sufficiently damaged that she had to be scrapped.
http://www.emaritimeexchange.com/wp-content/uploads/emaritime-exchange-logo-2017-300x119.png
0
0
George Ward
http://www.emaritimeexchange.com/wp-content/uploads/emaritime-exchange-logo-2017-300x119.png
George Ward
2017-02-06 21:46:00
2017-02-06 21:46:00
Storm Off UAE Drives Five Vessels Aground, Sinks One