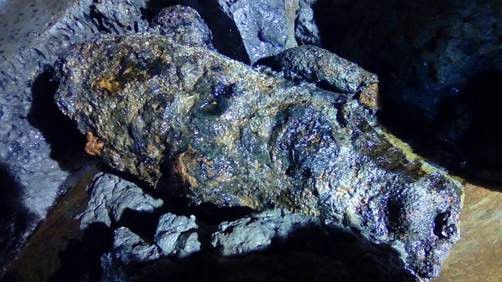 Royal Navy bomb disposal experts have today destroyed a wartime device found in Portsmouth Harbour during dredging work ahead of the arrival of HMS Queen Elizabeth.
The British-made Armstrong Whitworth munition was found at 0200 in the excavator head of a barge dredging the harbour – part of a raft of infrastructure upgrades taking place in readiness for the arrival of the Royal Navy's new 65,000-tonne aircraft carrier. It is not known how the device could have ended up at the bottom of the Solent.
Divers of the Royal Navy's Southern Diving Unit 2 (SDU2) were called to the scene, lowered the device to the seabed and carried out a controlled explosion at around 0830 hours.
"The swift action by my team to get to the barge and safely remove the bomb before the morning ferries sailed meant people were not disrupted or placed in danger," said Petty Officer (Diver) Scotty Eaton.
"My team worked safely and professionally with the contractors, the Queen's Harbour Master, and our operations centre to open up Portsmouth Harbour and keep the workers safe as they continue their dredging ahead of the arrival of HMS Queen Elizabeth," he continued. "The device was a British munition, and it's unknown why it would be at the bottom of the approaches but as always the Royal Navy stands by to deal with these things and keep people safe."
Millions of pounds have been spent on works to prepare Portsmouth Naval Base to accommodate the Royal Navy's two new aircraft carriers – HMS Queen Elizabeth and HMS Prince of Wales.
Dredging operations are under way to deepen the main channel used by shipping in Portsmouth by one metre. New power facilities are also being built, navigational aids installed and jetties upgraded to take the carriers alongside.
This article appears courtesy of Royal Navy News and may be found in its original edition here.
http://www.emaritimeexchange.com/wp-content/uploads/emaritime-exchange-logo-2017-300x119.png
0
0
George Ward
http://www.emaritimeexchange.com/wp-content/uploads/emaritime-exchange-logo-2017-300x119.png
George Ward
2017-02-18 00:01:00
2017-02-18 00:01:00
Royal Navy Disposes of Explosives in Portsmouth