Royal Navy bomb disposal experts have detonated an unexploded Second World War device after it was dredged up from the bottom of Portsmouth Harbour today.
The German SC250 bomb was found in the early hours of this morning in the excavator head of a barge dredging the harbour – part of a raft of infrastructure upgrades taking place in readiness for the arrival of the Royal Navy's new 65,000-tonne aircraft carrier.
The entrance to Portsmouth Harbour was closed until around 0730 as a precaution while the bomb disposal team assessed the swiftest and safest way of removing the device.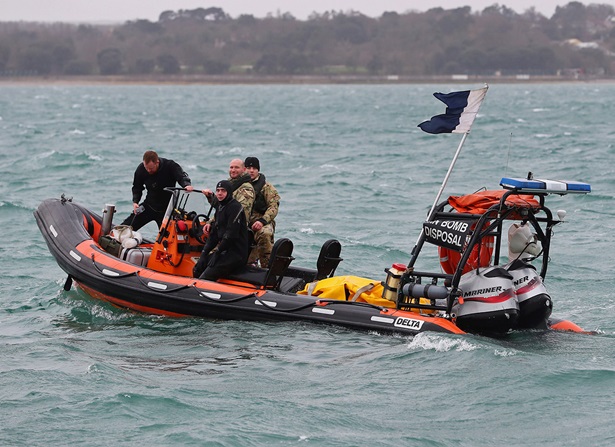 Dive Unit 2 prepares to detonate the bomb (Royal Navy)
Divers from the Royal Navy's Portsmouth-based Southern Diving Unit 2 towed the bomb away from the harbour, lowered it to the seabed, and planted explosive charges for a controlled detonation of the device. Shortly after 1100, it was destroyed in a plume of smoke and spray.
"I am exceptionally proud of everyone involved in today's incident and its excellent outcome," said Captain Roger Readwin, the Royal Navy's Captain Mine Warfare, Diving and Fishery Protection. 
"These bombs are still dangerous despite being several decades old and sitting at the bottom of the seabed for such a long time. We are naturally seeing more of these sort of call-outs due to the dredging works that are taking place for the arrival of the Queen Elizabeth Class aircraft carriers. But it's very much routine business for the Royal Navy and the diving squadron who are world-class professionals in dealing with this sort of ordnance in a way that protects the public from danger."
This type of Second World War German SC250 bomb weighs 500lb and contains 290lb of high explosives.
Millions of pounds have been spent on works to prepare Portsmouth Naval Base to accommodate the Royal Navy's two new aircraft carriers – HMS Queen Elizabeth and HMS Prince of Wales. Dredging operations are under way to deepen the main channel used by shipping in Portsmouth by one metre. New power facilities are also being built, navigational aids installed and jetties upgraded to take the carriers alongside.
http://www.emaritimeexchange.com/wp-content/uploads/emaritime-exchange-logo-2017-300x119.png
0
0
George Ward
http://www.emaritimeexchange.com/wp-content/uploads/emaritime-exchange-logo-2017-300x119.png
George Ward
2017-02-24 23:14:00
2017-02-24 23:14:00
Royal Navy Detonates WWII Bomb in Portsmouth