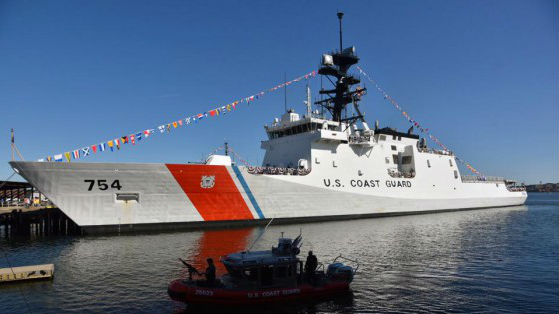 The Trump administration's draft budget for 2018 includes a $54 billion increase in defense spending, paid for by reducing other federal government expenditures. Among other sources of savings, it would reduce the Coast Guard's budget by $1.3 billion – an amount nearly equal to a proposed $1.4 billion appropriation for Trump's promised wall along the Mexican border. 
"The Budget prioritizes DHS law enforcement operations, proposes critical investments in front line border security and funds continued development of robust cybersecurity defenses," the document reads. "[It] aggressively implements the President's commitment to construct a physical wall along the southern border."
For land-based border security, Customs and Border Protection and Immigrations and Customs Enforcement would get a boost of $3 billion and $0.7 billion respectively, and overall the Department of Homeland Security's appropriation would rise by about six percent. 
Former officials are not so sure that the draft would be the best allocation of resources. "It is ignorant of what constitutes national security," said Adm. James Loy (ret'd), a former head of the Coast Guard who also served as deputy homeland security secretary, speaking to Politico. "They simply don't understand the equation . . . Should [the proposal] stand it would be devastating for the organization."
Commander Stephen Flynn (ret'd.), the director of Northeastern University's Global Resilience Institute, said that simultaneously fortifying the southern land border while cutting the budget for security at sea would push illicit traffic off shore. "As you harden the land border you open up the maritime border," he said. "You are going to have this balloon effect."
Congressional leaders will have the final say in the appropriations process, and several have already indicated that they view the draft budget with skepticism. "Any proposals to reduce support for the Coast Guard will receive careful scrutiny in Congress," said Senate Appropriations chairman Thad Cochran in a written statement. About half of the proposed cuts would come from cancelling the ninth National Security Cutter (NSC), a vessel that Cochran successfully promoted despite the objections of the Coast Guard itself. Its cancelation would affect Huntington Ingalls' yard in Mississippi, Cochran's home state. 
Congressman Duncan Hunter, the chairman of the Coast Guard and Maritime subcommittee, was more blunt in his assessment. "Congress funds [through appropriations], and we're not doing what they're doing. They're off in la-la-land. If they [the Office of Management and Budget] want to be irrelevant they're off to a good start."
A White House spokesman told the Washington Post that it would be "extremely premature" to draw any conclusions from the draft document, and referred further questions to OMB. 
Cuts could affect ocean weather forecasting
The draft budget also includes a 17 percent reduction for the National Oceanic and Atmospheric Association (NOAA). Among its many other duties, the agency oversees the National Weather Service's weather satellite system, which would receive a 22 percent cut. 
The agency's satellite data is a key component in its ocean weather modeling programs, which underpin virtually all of the forecasts available to navigators in American waters, including commercial weather products.
University of Georgia meteorologist Marshall Shepherd, a past president of the American Meteorological Society, suggested in a recent op-ed that the cuts could put lives and property at risk by affecting the quality of NOAA's numerical forecasts. 
"They reflect a misunderstanding of the value of NOAA's research and operations (especially satellite operations) on the safety and well-being of every American," said former NOAA chief scientist Rick Spinrad, speaking to weather.com. "Unless the administration is not interested in continuing to enhance the protection of the lives and property of our citizens through, for example, improved weather forecasts, watches and warnings, these cuts should not be implemented."
http://www.emaritimeexchange.com/wp-content/uploads/emaritime-exchange-logo-2017-300x119.png
0
0
eMaritime News
http://www.emaritimeexchange.com/wp-content/uploads/emaritime-exchange-logo-2017-300x119.png
eMaritime News
2017-03-08 00:58:00
2017-03-10 10:13:15
Rep. Hunter: Coast Guard Cuts are "Off in La-la-Land"