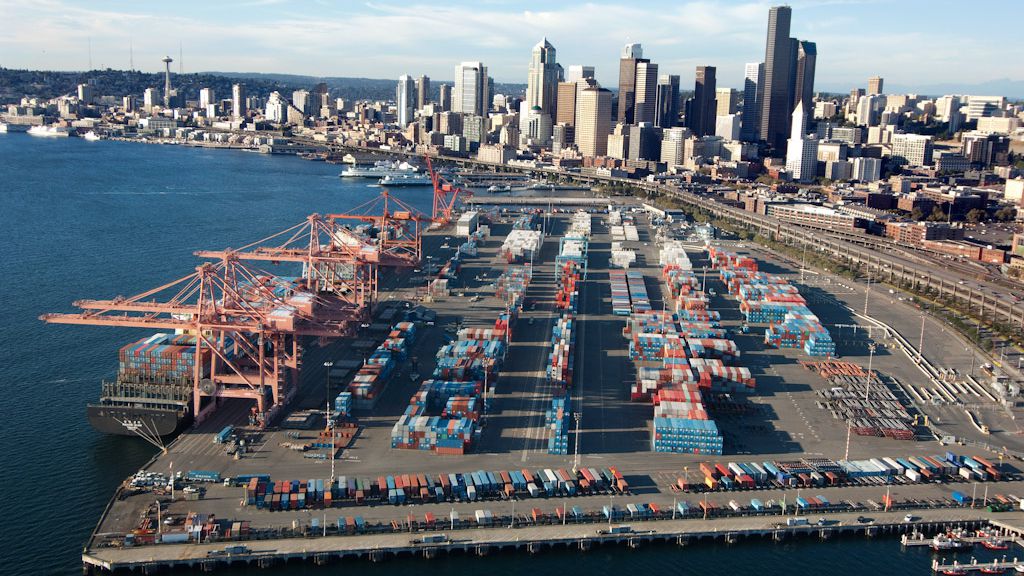 Port of Seattle's Terminal 46 (file image)
The CEO of the Port of Seattle, Ted Fick, submitted his resignation Wednesday amidst an ongoing audit into allegedly improper payments to port employees. 
"We accept the resignation of Ted Fick, and acknowledge his desire to return to the private sector," port commission president Tom Albro said in a statement yesterday. "We are currently working through the details of his departure and will defer further comment until those details are resolved." The port voted 5-0 to accept Fick's resignation, effective immediately. 
COO Dave Soike, a three-decade veteran of the port's administration, will step in as interim CEO. 
The commission had been in the midst of conducting a performance review for Fick, who has been on paid leave since last week due to an unspecified "personnel issue." The commission did not provide details, but the Puget Sound Business Journal has learned that Fick's departure comes just a day after state auditors announced a potential problem: a routine audit found that a $4.7 million payout to over 600 port employees in 2016 may constitute an unlawful gift of public funds. If the audit's findings are substantiated, the payments could be in violation of the state constitution.
The state auditor's office has advised the port to determine whether the repayment of these funds is required by law. However, it declined to comment on whether Fick's departure was related to the audit report's findings. Fick and Albro have also declined to provide further details.
This is not Fick's first controversy during his two-year tenure at the port. He was pulled over last year for driving 79 mph in a 50 mph zone and was charged with a DUI, with a blood alcohol level recorded at over 0.09. He is due to answer the charges in court this month, but he told the port commission last year that he intended to negotiate a lower charge and avoid a trial. 
In his resignation letter, Fick said that he has realized that his talents are "better suited to the private sector," where he plans to return. He noted the port's strong performance under his administration: last year, it had its best financial results in more than a century of operations, and it has broken records in several traffic categories. "The port is well-positioned for the future and I wish you all continued success," Fick wrote. 
http://www.emaritimeexchange.com/wp-content/uploads/emaritime-exchange-logo-2017-300x119.png
0
0
George Ward
http://www.emaritimeexchange.com/wp-content/uploads/emaritime-exchange-logo-2017-300x119.png
George Ward
2017-02-03 18:40:00
2017-02-03 18:40:00
Port of Seattle CEO Resigns Amidst Audit Controversy