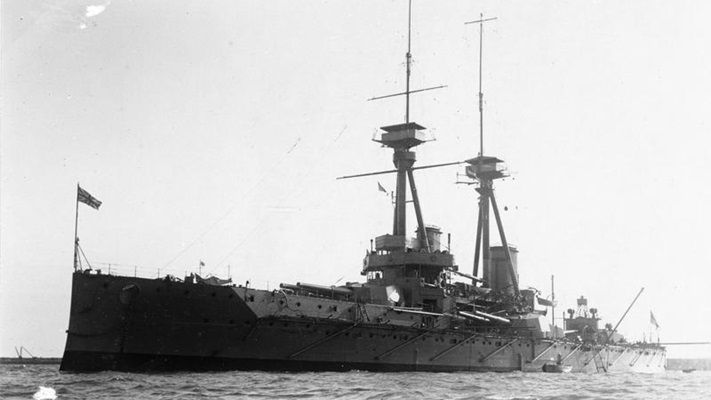 Since October they have been diving on the wreck, which lies about 100 feet down off the north shore of the Isle of Flotta, and will compile a detailed report of their findings in due course.
RN divers last visited the wreck back in 2009 when HMS Bangor's crew placed a weighted wreath and White Ensign on Vanguard's shattered hull. The Huskyan team found the flag, now covered in marine growth and popular with starfish, and the rest of the ship scattered over a wide area.
The wreck was extensively salvaged – legally – in the years following the tragedy to recover metal which might be recycled.
Diver Emily Turton said that so far the inspection, which will continue until the spring, had revealed a strange mix of utter devastation and serenity. "The bow and stern are intact, despite large pieces of wreckage thrown hundreds of metres away – there's an extensive debris field," she explained.
Investigations so far have confirmed contemporary testimony – that the main explosion which destroyed HMS Vanguard occurred around P and Q turrets, aft of her bridge. The divers found little of the midships section of the dreadnought, where the magazines once were, just the 12in gun turrets themselves, thrown a good 130 feet from the wreck.
It's thought a long-smoldering fire in a coal bunker caused cordite charges in an adjacent compartment to ignite. A series of explosions shook the ship before a final blast tore the battleship to pieces and showered Scapa Flow – the wartime anchorage of the Royal Navy – with metal and burning debris which set the Orkney heather alight.
622 of the fallen are listed on Chatham's naval memorial, 126 on Portsmouth's and 74 on the monument on Plymouth Hoe, with around a dozen and a half victims buried near the wreck site. "We're very sensitive to the historical importance of Vanguard's wreck," Emily said. "We hope that this survey will add to our historic knowledge of this era of warship construction – and help maintain the memory of Vanguard and the sacrifice made by her crew."
This article appears courtesy of Royal Navy News and may be found in its original edition here. 
https://www.emaritimeexchange.com/wp-content/uploads/2016/02/emaritime-icon-1030x1030.png
1030
1030
George Ward
http://www.emaritimeexchange.com/wp-content/uploads/emaritime-exchange-logo-2017-300x119.png
George Ward
2017-01-28 01:13:00
2017-01-28 01:13:00
Photos: Divers Survey Wreck of HMS Vanguard