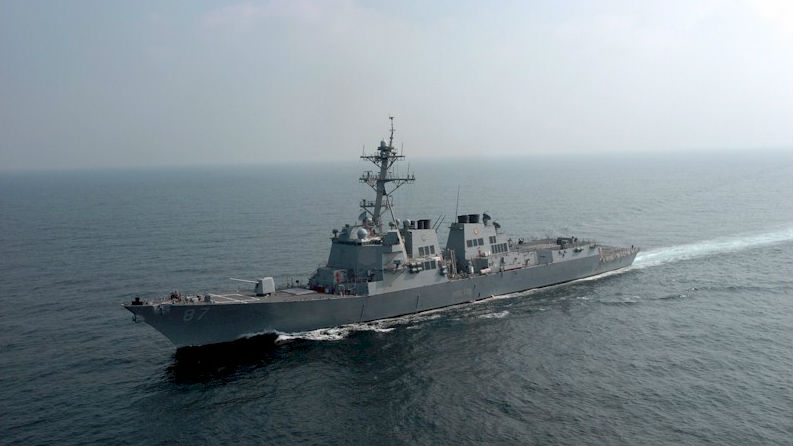 Guided missile destroyer USS Mason (USN file image)
On Thursday, the Pentagon denied allegations that U.S. Navy warships have recently bombarded al Qaeda positions in Yemen. An unnamed Yemeni official told Reuters that "ships fired several missiles towards the al-Maraqisha mountains, where al Qaeda elements are based. The ships are widely believed to be Americans." A Pentagon spokesman denied that U.S. warships had any involvement.
The claim comes less than after a week after a U.S. Navy SEAL died in a raid on an al Qaeda compound in Yemen. Chief Special Warfare Operator William "Ryan" Owens, an experienced member of SEAL Team 6, was shot and killed in a firefight when al Qaeda fighters were alerted to the presence of his team. Three other servicemembers were wounded in the exchange and three were injured in a related "hard landing."  The Navy has given Owens a posthumous promotion to the rank of Senior Chief Petty Officer.
U.S. Central Command acknowledged on Wednesday that civilians were probably killed in the raid, possibly including children. "The known possible civilian casualties appear to have been potentially caught up in aerial gunfire that was called in to assist U.S. forces in contact against a determined enemy that included armed women firing from prepared fighting positions," CENTCOM said in a statement. Fire support assets deployed to assist the SEAL team included two helicopter gunships and two Harriers from the USS Makin Island. 
President Donald Trump declared the raid a success, and on Thursday, the Pentagon confirmed that the operation secured "valuable and actionable intelligence" about the terrorist organization. 
http://www.emaritimeexchange.com/wp-content/uploads/emaritime-exchange-logo-2017-300x119.png
0
0
George Ward
http://www.emaritimeexchange.com/wp-content/uploads/emaritime-exchange-logo-2017-300x119.png
George Ward
2017-02-03 02:18:00
2017-02-03 02:18:00
Pentagon Denies Bombardment of al Qaeda Positions