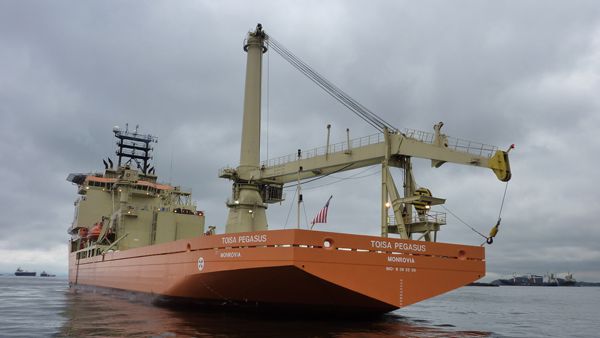 The vessel operator Toisa Ltd. has filed for U.S. bankruptcy protection, citing debts exceeding $1 billion and a poor market outlook. The diversified owner and operator has been scaling back for at least a year, ever since oil prices began to slide and demand for its offshore supply vessels declined, but it does not foresee a quick turnaround.
Toisa's bulker operations have also been hit by low day rates. The firm's fleet includes seven bulkers, 13 tankers and 26 offshore vessels of various types. 
Toisa is in talks with its American, European and Chinese lenders, and the bankruptcy protection will give it additional time and leverage in its negotiations. Its largest creditors include Danish Ship Finance, with $121 million secured by seven vessels; DNB Bank, with $115 million secured by three tankers; ING Bank, with $115 million secured by seven vessels; Citibank, with $100 million secured by four vessels; and BNP Paribas, with $82 million secured by two vessels. 
The firm also owes $23 million to Chinese shipyard CIC Jiangsu, plus smaller amounts to a variety of class societies, shipbrokers, insurers, bunkerers, ports, chandlers and other vendors. 
Offshore supply vessel operators have been especially stressed by the downturn in the oil market; oil majors have pressured their suppliers for price cuts and have canceled contracts on countless offshore drilling campaigns. Even blue-chip operators have felt the pressure, and some firms with weaker balance sheets have already applied for court protection. Singapore-based offshore services firm Swiber Holdings declared bankruptcy last year; Norway's Viking Supply Ships is defending itself against a bankruptcy petition from one of its shipowners; and market-leading operator Tidewater has been negotiating with its lenders for nearly a year in an attempt to prevent a Chapter 11 filing.  
http://www.emaritimeexchange.com/wp-content/uploads/emaritime-exchange-logo-2017-300x119.png
0
0
George Ward
http://www.emaritimeexchange.com/wp-content/uploads/emaritime-exchange-logo-2017-300x119.png
George Ward
2017-01-30 23:24:00
2017-01-30 23:24:00
OSV Operator Toisa Files for Bankruptcy