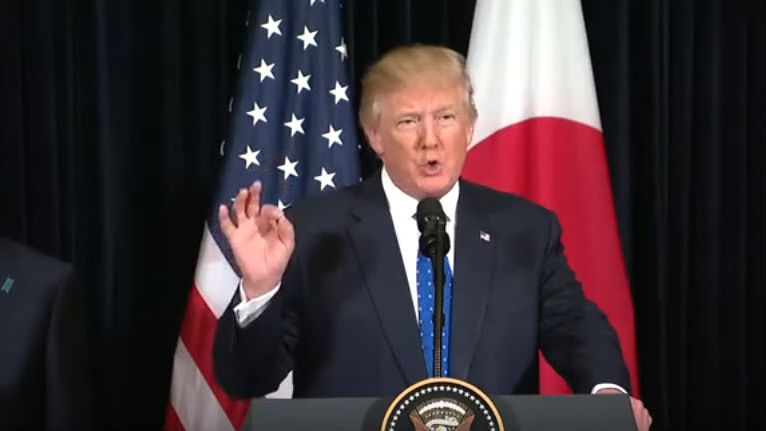 North Korea fired a ballistic missile on Saturday, the first such test since Donald Trump took office as U.S. president.
The missile was launched from the North Pyongan province on the west side of the Korean peninsula and flew east towards the Sea of Japan for about 500 kilometers (300 miles). It did not reach Japanese territorial waters.
The missile reached an altitude of about 550 kilometers (350 miles), the South Korean military said. It appeared to be a Musudan intermediate-range missile, capable of reaching the U.S. territory of Guam, reports BBC News.
"The United States of America is behind Japan, our great ally, 100 percent," Trump told reporters in Palm Beach, Florida, alongside visiting Japanese Prime Minister Shinzo Abe. However, Trump is yet to tweet any controversial comments about the test.
 
Some analysts have said that his relatively subdued reaction to the test could mean that aides have convinced him not to be baited into issuing threats that would be hard to carry out, especially while his North Korea strategy is still being formulated.
Reuters reports aides as saying that the Trump administration will take a more assertive approach to North Korea than the Obama policy which was dubbed "strategic patience." This involved gradually scaling up sanctions and diplomatic pressure and essentially waiting out the North Korean leadership.
North Korea conducted a number of nuclear and missile tests last year, in contravention of U.N. resolutions. The tests have prompted the U.S. and South Korea to agree to deploy a Terminal High Altitude Area Defense (THAAD) anti-missile battery in South Korea later this year.
Additionally, the U.S. Missile Defense Agency and Japan's Ministry of Defense successfully tested the first intercept of a ballistic missile using Raytheon's latest technology, the Standard Missile-3 (SM-3) Block IIA on February 3. 
The SM-3 Block IIA is being developed cooperatively by the United States and Japan to defeat medium- and intermediate-range ballistic missiles.
China has called on the U.S. and Japan to show great care, as the technology has some experts saying that it will break the global strategic balance and trigger an arms race.
http://www.emaritimeexchange.com/wp-content/uploads/emaritime-exchange-logo-2017-300x119.png
0
0
George Ward
http://www.emaritimeexchange.com/wp-content/uploads/emaritime-exchange-logo-2017-300x119.png
George Ward
2017-02-12 22:43:00
2017-02-12 22:43:00
North Korea Fires Missile, Trump Cautious