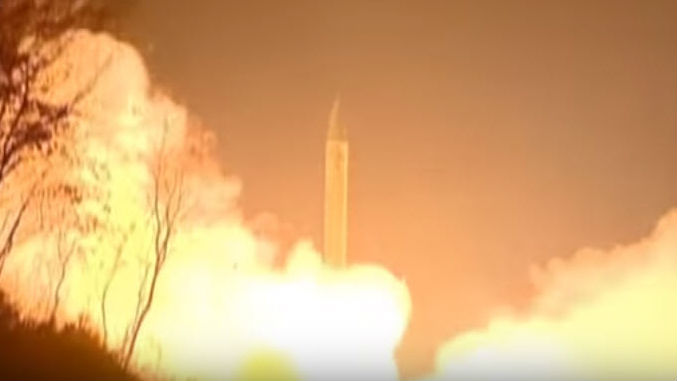 North Korea fired four ballistic missiles early on Monday, three of which landed in Japan's exclusive economic zone, Japanese Prime Minister Shinzo Abe said.
The missiles were launched from the Tongchang-ri region near the North's border with China and flew about 1,000 kilometers (620 miles), South Korean military officials said.
No reports of damage to shipping or aircraft had been received.
North Korea test fired a new type of missile, known as the Pukguksong-2, into the sea early last month, and has said it will continue to launch new strategic weapons. The missile did not reach Japanese territorial waters.
The missile was propelled by a solid fuel engine and was an upgraded, extended-range version of a submarine-launched ballistic missile that was tested successfully last August.
A fully developed inter-continental ballistic missile could threaten the continental United States, which is about 9,000 kilometers (5,500 miles) from North Korea, reports Reuters.
During a joint meeting with U.S. President Donald Trump last month, Abe said: "North Korea's most recent missile launch is absolutely intolerable. North Korea must fully comply with the relevant United Nations Security Council resolutions." 
Trump said: "I just want everybody to understand and fully know that the United States of America stands behind Japan, its great ally, 100 percent."
North Korea conducted a number of nuclear and missile tests last year, in contravention of U.N. resolutions. The tests have prompted the U.S. and South Korea to agree to deploy a Terminal High Altitude Area Defense (THAAD) anti-missile battery in South Korea later this year.
Additionally, the U.S. Missile Defense Agency and Japan's Ministry of Defense successfully tested the first intercept of a ballistic missile using Raytheon's latest technology, the Standard Missile-3 (SM-3) Block IIA on February 3. 
The SM-3 Block IIA is being developed cooperatively by the United States and Japan to defeat medium- and intermediate-range ballistic missiles.
China has called on the U.S. and Japan to show great care, as the technology has some experts saying that it will break the global strategic balance and trigger an arms race.
http://www.emaritimeexchange.com/wp-content/uploads/emaritime-exchange-logo-2017-300x119.png
0
0
George Ward
http://www.emaritimeexchange.com/wp-content/uploads/emaritime-exchange-logo-2017-300x119.png
George Ward
2017-03-06 00:56:00
2017-03-06 00:56:00
North Korea Fires Ballistic Missiles Close to Japan