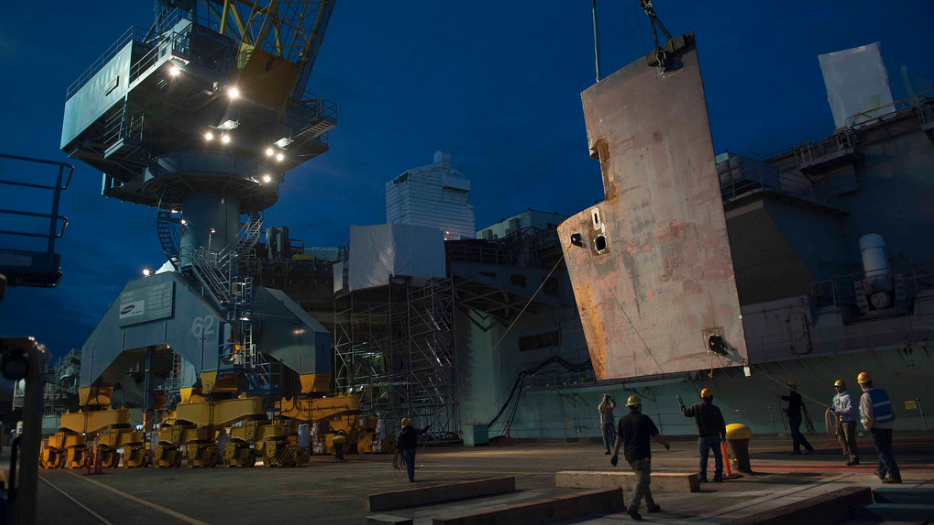 Yard workers at Bremerton Naval Shipyard pull a rudder from the carrier John C. Stennis (USN)
The Congressional Research Service reported last week that building up the Navy to 355 vessels – the service's latest target – will be a long-term effort, requiring a challenging combination of life extensions, reactivations and new construction. The numbers for certain vessel types – notably carriers and submarines, the costliest and most complicated ships on earth – will require decades to build up, even if funding rises.
The Congressional Budget Office is working out the costs of a 355-ship fleet, but in the near term, the Navy's focus is on maintaining the vessels it already has. Years of budget restrictions have cut deeply into funding for repairs and readiness, says the vice chief of naval operations, Admiral William Moran. Moran told the House Armed Services Committee on Tuesday that if the service doesn't get additional funds this year, it will have to start shuttering air wings and deferring repairs on vessels – including five submarines, which might lose certification for front-line service if they are not maintained. 
Already, the budget "sequestration" enacted in 2013 has had a stark effect on readiness. Shipyard backlogs have pushed back repairs for attack submarines like the USS Boise, which is pierside in Norfolk and decertified, awaiting a slot in drydock. USNI reports that she may not find an opening until 2019. 
Moran said that the maintenance backlog for naval aviation is even worse, with less than half of the Navy's jets ready to fly on any given day. "There's no depth on the bench . . . if we had to surge forces," he said. Figures provided to Defense News and Breaking Defense show that 62 percent of the Navy's F/A-18 fleet is out of service for depot or maintenance work, and the numbers for the Marine Corps are worse. The Navy has been warning of aircraft shortfalls since last year, when the commodore of Strike Fighter Wing Atlantic, Captain Randy Stearns, told a congressional hearing that sustained operations and underfunding had depleted almost all reserve air wings. 
http://www.emaritimeexchange.com/wp-content/uploads/emaritime-exchange-logo-2017-300x119.png
0
0
George Ward
http://www.emaritimeexchange.com/wp-content/uploads/emaritime-exchange-logo-2017-300x119.png
George Ward
2017-02-08 02:02:00
2017-02-08 02:02:00
Navy Wants a Bigger Fleet, But Maintenance Comes First