The Defense Department has released new photos of Russian military aircraft "buzzing" the guided missile destroyer USS Porter in the Black Sea last Friday. 
A Pentagon spokesman described the alleged fly-bys as "unsafe and unprofessional because of the potential for an accident." Further, the Defense Department said that the aircraft had approached without their transponders turned on.
"Such incidents are concerning because they can result in accident or miscalculation," warned Pentagon spokeswoman Michelle Baldanza.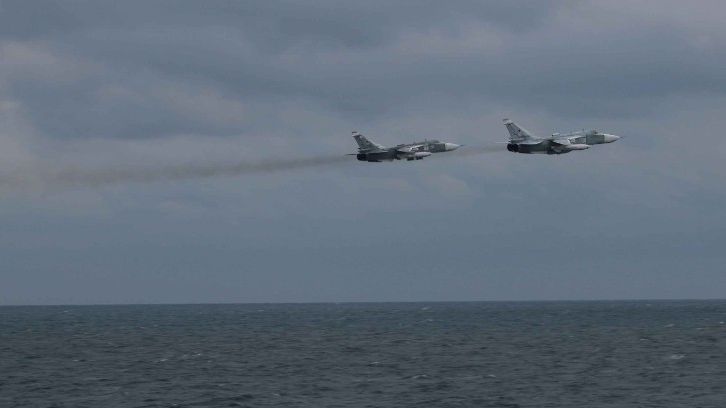 U.S. officials said that Russian military planes made low-altitude passes in three separate incidents: a pass by one Il-38 maritime patrol aircraft; then one Su-24 fighter; and finally a set of two Su-24 fighters. The alleged close encounters occurred on the final day of "Sea Shield 2017," a NATO naval drill involving 16 allied warships off the coast of Romania.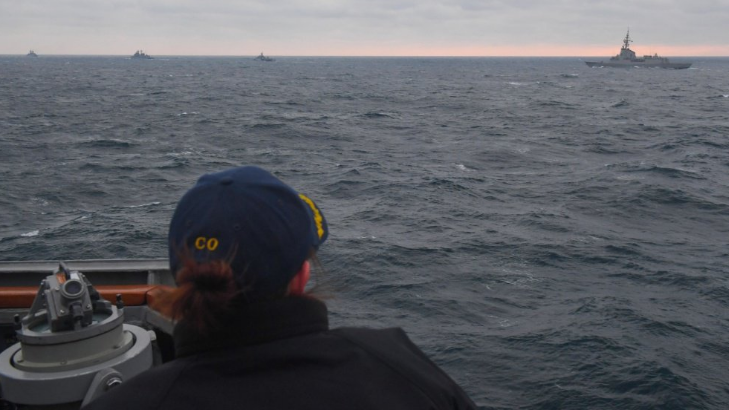 The USS Porter departing the Black Sea after Sea Shield 2017, Febuary 11 (USN)
Yesterday, a top Russian defense official denied that the fly-bys had occurred. "There were no incidents related to a flyby of Russian military aircraft near the USS Porter destroyer in the Black Sea on February 10," said Maj. Gen. Igor Konashenkov, in a statement to Russia Today. "If the U.S. destroyer, as the Pentagon official claims, conducted a 'regular' patrol mission in the vicinity of Russia, tens of thousands miles away from their own shores, it is strange to be surprised about the no less regular flights of our aircraft over the Black Sea."
The incidents recall a similar series of eleven fly-bys reported by the USS Donald Cook in the Baltic last April (video below).
[embedded content]
Shortly after the Cook incident last year, the Russian government purged 50 top officers from the Baltic Fleet command – the largest such mass firing since the days of Stalin. "Some hint that the "buzzing" . . . was meant to be part of a broader series of Russian confrontations," said analyst Peter Coates, according to News.com.au. "But the Russian Baltic Fleet in April, however, refused to follow such dangerous orders — hence Putin's retaliation against his own naval officers."
http://www.emaritimeexchange.com/wp-content/uploads/emaritime-exchange-logo-2017-300x119.png
0
0
George Ward
http://www.emaritimeexchange.com/wp-content/uploads/emaritime-exchange-logo-2017-300x119.png
George Ward
2017-02-17 00:06:00
2017-02-17 00:06:00
Navy Releases Photos of "Unsafe" Russian Flyby