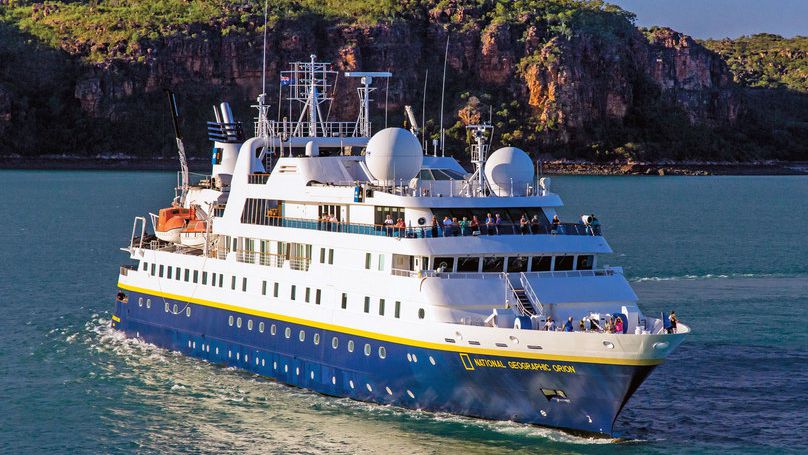 File image courtesy Cruisemapper
The 100-passenger expedition cruise ship National Geographic Orion is getting a ride aboard a heavy-lift ship from Tierra del Fuego to Europe, where she will be repaired. 
The Orion suffered engine damage on the a return voyage from Antarctica on December 26. She managed to return to port at a slow bell, arriving on December 29. Lindblad Expeditions, which operates the Orion on behalf of National Geographic, dispatched engineers to evaluate the extent of the damage. They determined that the vessel would need to be repaired at a European yard, and the Orion anchored up to await the arrival of a heavy-lift ship. Her next five cruises were canceled. 
The semi-submersible ship Rolldock Storm arrived in Ushuaia on Thursday to pick up the Orion. On Sunday she ballasted down, flooded her well deck and floated the cruise ship aboard. Local authorities said that the full operation took seven hours, and that the two vessels will spend the next several days in Ushuaia preparing for their transatlantic voyage. 
"It's the first time I've seen such an operation given the size of the vessels involved. Thankfully weather conditions were perfect and it all worked out smoothly", said Andres Giraudi, the head of the local coast guard station.
The Orion was built in 2003 at German yard Cassens Werft, and is equipped with one MaK 8M25 diesel engine driving a single screw. She has retractable stabilizers, bow and stern thrusters and an ice-classed hull. 
The 8,000 dwt Rolldock Storm is a unique multipurpose heavy lift ship, one of a series operated by the Roll Group. She has a rear loading ramp protecting the entrance to what is effectively a mobile dry dock, with wing tanks to raise and lower the ship. When ballasted down, vessel "cargo" like the Orion can float on or float off. When positioned stern to the pier, the Storm can also accept ro/ro cargo, and when alongside the pier it can use its two 350-ton cranes to load and unload. Previous cargoes include the Kilo-class submarines HQ-185 and HQ-187, delivered from Russia to Vietnam.
[embedded content]
[embedded content]
http://www.emaritimeexchange.com/wp-content/uploads/emaritime-exchange-logo-2017-300x119.png
0
0
George Ward
http://www.emaritimeexchange.com/wp-content/uploads/emaritime-exchange-logo-2017-300x119.png
George Ward
2017-01-31 00:50:00
2017-01-31 00:50:00
National Geographic Cruise Ship Gets a Lift Home