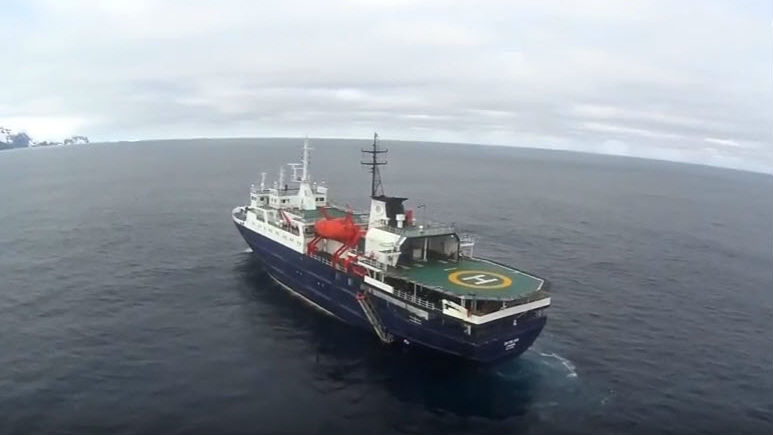 Rescue Coordination Centre New Zealand (RCCNZ) is co-ordinating the urgent medevac of a 66-year-old woman from the Netherlands who suffered a suspected stroke on the cruise vessel, MV Ortelius, in Antarctic waters early on Monday morning.
The ship is located in the Ross Sea, off the Antarctic ice shelf, 3,600 kilometers (2,200 miles) south of New Zealand. The ship's medical staff recommended that the patient be taken to New Zealand for further medical treatment.
The MV Ortelius is transporting the woman, who is in a stable condition, towards McMurdo Station, a United States Antarctic research centre on the south tip of Ross Island located 620 kilometerss (385 miles) from the ship's original position on Monday.
"The MV Ortelius will attempt to get as close to McMurdo Station as conditions allow for the woman to be transferred. If ice prevents the vessel reaching McMurdo she will be transported by the vessel's own helicopter and flown to McMurdo Station. The woman will fly on to New Zealand on a regular scheduled flight," RCCNZ Senior Search and Rescue Officer Chris Henshaw said.
"Antarctica is one of the world's harshest environments, and every precaution is being taken by all parties to make sure the medevac is successful."
RCCNZ expects the medevac will happen around midday on Tuesday New Zealand time with the flight to New Zealand occurring on Wednesday.
RCCNZ is responsible for a search and rescue region which covers 30 million square kilometers stretching from Antarctica almost to the equator.
 MV Ortelius Specifications
Passengers: 116 in 53 cabins
Staff & crew: 52
Length: 90.95 meters
Breadth: 17.20 meters
Draft: 5.4 meters
Ice class: UL1 (Equivalent to 1A)
Displacement: 4,090 tons
Propulsion: 6 ZL 40/48 SULZER
Speed: 14.5 knots maximum
http://www.emaritimeexchange.com/wp-content/uploads/emaritime-exchange-logo-2017-300x119.png
0
0
George Ward
http://www.emaritimeexchange.com/wp-content/uploads/emaritime-exchange-logo-2017-300x119.png
George Ward
2017-01-30 23:22:00
2017-01-30 23:22:00
Medical Emergency on Antarctic Cruise