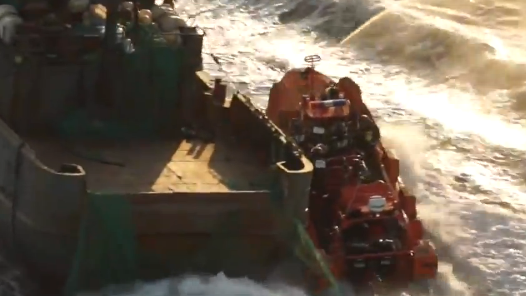 On Thursday morning, a South Korean fisheries patrol boat fired 900 rounds from an M60 machine gun to drive off dozens of Chinese fishing vessels that were allegedly trying to interfere with an interdiction operation. 
The patrol had apprehended one vessel from the Chinese fleet on suspicion of illegal fishing, and the coast guard alleges that as soon as the Korean forces seized the boat, the rest of the Chinese flotilla altered course to intercept – presumably in an attempt to drive off the patrol and free the suspects.
The Korean forces signaled several warnings, which reportedly went unheeded. Using recently approved rules of engagement, they fired 900 warning shots to drive off roughly 40 approaching boats.
As in earlier incidents, the Korea Coast Guard alleged that the Chinese vessels were equipped with sharp iron spikes on their rails to deter boarding teams. The spikes would be a violation of a new Chinese-Korean pact that would immediately penalize any fishing vessel carrying boarding deterrents or weapons.
It was the first time that the coast guard opened fire in a fisheries interdiction this year, and the twentieth time since the new rules were approved in 2016. Increasingly violent confrontations between Chinese poachers and Korea Coast Guard servicemembers have led to a series of near-misses, collisions, injuries and fatalities on both sides. The new rules were instituted after a Chinese fishing vessel ran down and sank a Korean patrol boat, forcing one Korean servicemember over the side. 
In order to meet the growing threat, the Korea Coast Guard intends to spend $100 million on upgraded equipment for maritime security patrols. The new investments include more powerful propulsion systems for its 7.7m class boats; more searchlights and better echo sounders for search purposes; and two new 100-ton patrol craft. 
http://www.emaritimeexchange.com/wp-content/uploads/emaritime-exchange-logo-2017-300x119.png
0
0
George Ward
http://www.emaritimeexchange.com/wp-content/uploads/emaritime-exchange-logo-2017-300x119.png
George Ward
2017-02-17 18:35:00
2017-02-17 18:35:00
Korea Coast Guard Fires 900 Warning Shots at Poachers