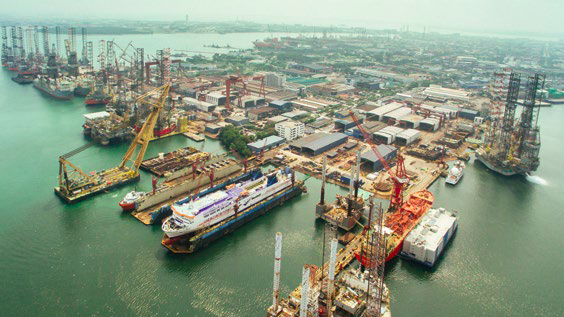 File image courtesy Keppel O&M
On Thursday, leading offshore rig builder and real estate firm Keppel Corp. posted its smallest annual profit since 2006 – but still a profit, unlike the recent performance of many of its competitors. Keppel's Offshore & Marine division brought down the broader group's numbers, with earnings plummeting to $20 million for 2016, down 94 percent year on year. Keppel O&M has had to cut overhead to keep operations in the black, and it plans to continue cutbacks this year by shuttering three yards in Singapore. 
Over the past 18 months, drilling contractors have pulled back on rig orders as oil majors have slowed or canceled exploration plans. Keppel O&M has been forced to lay off thousands of workers, including 10,000 employees last year alone – about one third of its workforce. It has already closed two yards abroad. 
In comments reported by Reuters and ChannelNewsAsia, CEO Loh Chin Hua suggested that the firm does not expect rapid improvement. "While spending by oil majors is expected to increase, we do not envisage a quick recovery for the offshore business, which continues to be under pressure from weak utilisation of the existing operating fleet, coupled with a supply overhang of new builds," Loh said. He noted that the market remains overbuilt, and the data agrees: a recent analysts' estimate found that offshore rig utilization stands at just 50 percent worldwide.  "What we are going through is a very long harsh winter . . . It's not business as usual," he concluded. 
Loh did not provide details on the specific facilities in Singapore that would be shuttered, but he said that the firm's primary yards would remain intact. As of the beginning of 2016, Keppel drew on the capabilities of 20 yards worldwide, including seven in Singapore. 
https://www.emaritimeexchange.com/wp-content/uploads/2016/02/emaritime-icon-1030x1030.png
1030
1030
George Ward
http://www.emaritimeexchange.com/wp-content/uploads/emaritime-exchange-logo-2017-300x119.png
George Ward
2017-01-27 21:45:00
2017-01-27 21:45:00
Keppel O&M Laid Off 10,000 Workers in 2016