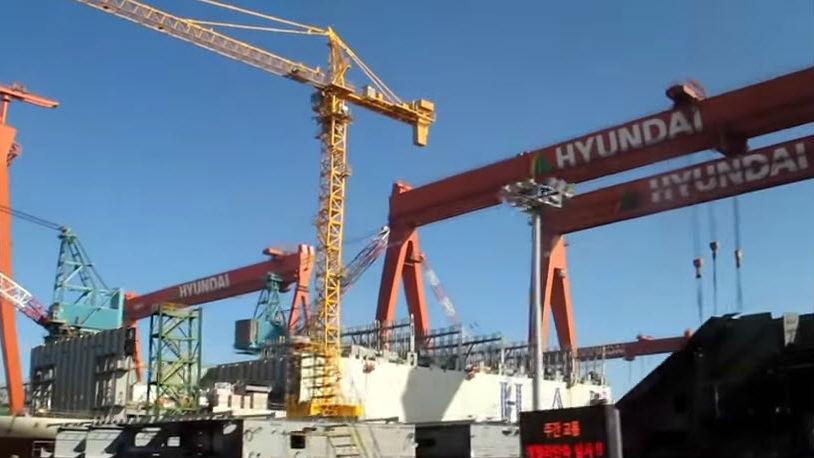 On Thursday, hundreds of Hyundai Heavy Industries' unionized workers downed tools in their first full strike since 1994.
The workers are protesting the impending spinoff of Hyundai Heavy's non-shipbuilding businesses and the shutdown of a dock at the Gunsan shipyard, two core components of the shipbuilder's restructuring plans. In November, HHI said that it would streamline its operations by turning its electric/electronic, services, construction equipment, robotics and renewable energy divisions into separate companies. HHI suggests that there would be regulatory and governance advantages in separating the firm's operations. 
The union views the split as a means to undermine its strength and claims that it would lead to layoffs; in addition, HHI's management has proposed a 20 percent pay cut, which the union is unwilling to accept. According to Business Korea, the two sides have held over 70 meetings over the past ten months to work out a collective bargaining agreement, but so far they have not been able to make headway. 
The strike continued Friday and will resume on Monday, when HHI's shareholders will vote on whether to split the company. HHI claims that the strikers' participation rate has been low, with only 800 workers joining in out of 15,000. On Friday, the union put the number slightly higher at about 1,500 participants. Even if all of HHI's unionized labor were to walk out, the majority of the shipbuilder's workers would still be on the job: non-union contractors make up about 70 percent of the shipbuilder's workforce. Company executives said that the strikes have had minimal impact on productivity.  
The balance sheets of South Korea's "Big Three" shipyards have suffered badly over the past two years due to the simultaneous downturn in shipping and offshore services. All three posted a loss in 2015 – the first time this had ever occurred – and their combined backlog has fallen to the lowest level in more than 13 years. The Big Three are pursuing aggressive restructuring plans backed by Korea's government-owned development banks, KDB and Kexim. They have closed graving docks, sold off non-core assets, renegotiated terms of credit and reduced their headcounts: the yards laid off 5,000 workers in the first half of 2016 alone and are expected to let go an additional 4,000 by the end of this year.
http://www.emaritimeexchange.com/wp-content/uploads/emaritime-exchange-logo-2017-300x119.png
0
0
George Ward
http://www.emaritimeexchange.com/wp-content/uploads/emaritime-exchange-logo-2017-300x119.png
George Ward
2017-02-25 02:31:00
2017-02-25 02:31:00
Hyundai Heavy's Union Strikes for First Time in 23 Years