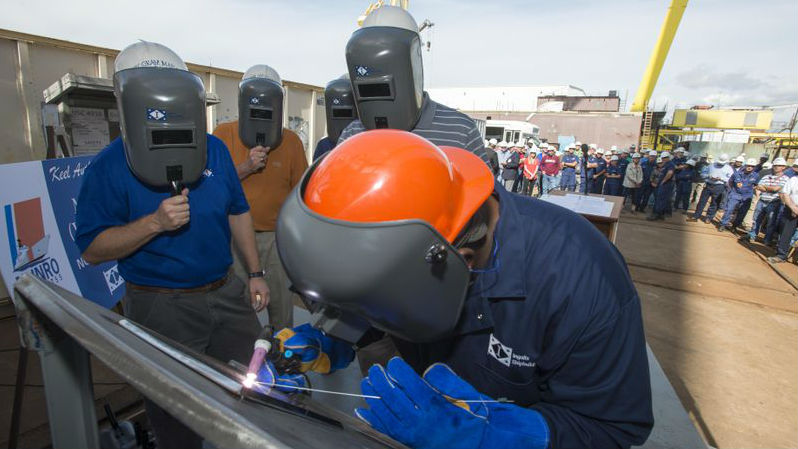 The majority of the world's commercial shipbuilders have been announcing losses, cutbacks and layoffs since the end of 2015. Not so for the United States' largest defense shipbuilder, Huntington Ingalls Industries (HII), which recently announced a 300 percent increase in profit for the fourth quarter. Full year earnings for 2016 were up 40 percent, reaching $570 million on revenues of $7 billion, and HII's backlog stands at an enviable $20 billion in orders. 
With all the work to be done, the firm plans to hire an additional 3,000 workers at its Newport News facility alone this year, including 250 engineers. HII's yards in Virginia and Mississippi are already the largest industrial employers in their states, with 20,000 and 11,000 employees respectively.
Overall, "[HII] benefited from strong segment performance, a pension tailwind, taxes and lower share count," said Jerri Dickseski, the company's executive vice president for communications, speaking to the Virginia Pilot. "All of these things contributed to the revenue gain."
HII president and CEO Mike Petters says that the yard in Pascagoula has led the way on earnings. That facility builds amphibious assault ships (LPDs), large deck amphibious ships (LHAs), and Arleigh Burke-class destroyers for the Navy; it also holds the contract for the new National Security Cutters for the U.S. Coast Guard. 
Huntington Ingalls is the only shipbuilder that constructs and maintains nuclear aircraft carriers, and it is one of two in the U.S. with contracts to build nuclear submarines. It has built over two thirds of the Navy's active vessels, and it is well-positioned to benefit from a widely expected increase in the size of the fleet. The service's new force structure assessment – paired with President Donald Trump's intention to build out a 350-ship Navy – bodes well for HII's future earnings. 
HII's stock has surged in tandem with the firm's strong financial performance and its positive outlook. Its share price reached a one-year high of $213 on Monday, and its value is up 57 percent over the past year – about twice the average increase for the defense sector as a whole. 
http://www.emaritimeexchange.com/wp-content/uploads/emaritime-exchange-logo-2017-300x119.png
0
0
George Ward
http://www.emaritimeexchange.com/wp-content/uploads/emaritime-exchange-logo-2017-300x119.png
George Ward
2017-02-21 19:00:00
2017-02-21 19:00:00
Huntington Ingalls to Hire 3,000 Workers This Year