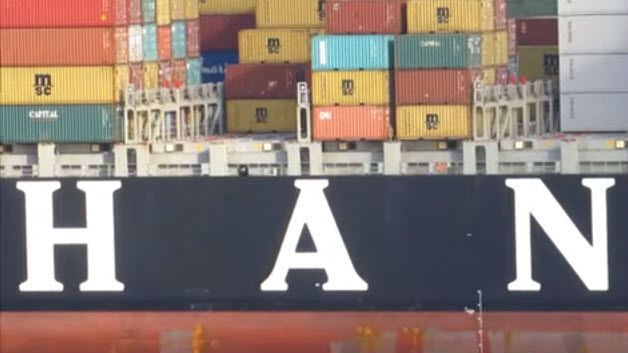 The bankrupt container line Hanjin Shipping's last remaining ship, the Hanjin Rome, has been sold for scrap by a Singaporean court. All Hanjin-operated vessels have now been auctioned off, seized by creditors or repossessed by shipowners. The Rome is now under way for a Bangladeshi shipbreaking yard, the final sailing for what was once the world's seventh-largest container fleet. 
The 1998-built Rome's demolition reflects her age, but also the persistent oversupply in the container market, especially in the Panamax segment. Vessels of 4-5,000 TEU, like the Rome, have been selling for little more than scrap value – even hulls as young as seven years old. VesselsValue put her demolition value at about $8 million. 
"Hanjin's sudden departure has left a vacuum in the market and most of its ships were unable to find any gainful employment during the six months period that followed the cessation of regular liner operations," said container market analysts Alphaliner. The firm estimates that 48 out of Hanjin's 97 vessels remain idle. 
The Rome made headlines when she was arrested in Singapore August 30, just one day before Hanjin filed for receivership. Her 24 crewmembers were stuck on the anchored vessel for months, uncertain of when they might be able to disembark and fly home. The Rome's master gave regular interviews to the Straits Times, the BBC and other outlets, giving a voice to the many Hanjin seafarers who were left stranded around the world when the line collapsed. 
The last of Hanjin's Singapore offices are due to close by April, according to Asia One. Some of the firm's former employees have migrated to the newly formed SM Line, which purchased some of Hanjin's business operations and vessels in order to found a new intra-Asia / trans-Pacific service network. SM intends to launch its first route from South Korea to the U.S. West Coast in April.
http://www.emaritimeexchange.com/wp-content/uploads/emaritime-exchange-logo-2017-300x119.png
0
0
eMaritime News
http://www.emaritimeexchange.com/wp-content/uploads/emaritime-exchange-logo-2017-300x119.png
eMaritime News
2017-03-09 01:16:00
2017-03-10 10:13:13
Hanjin's Last Ship Sold for Scrap