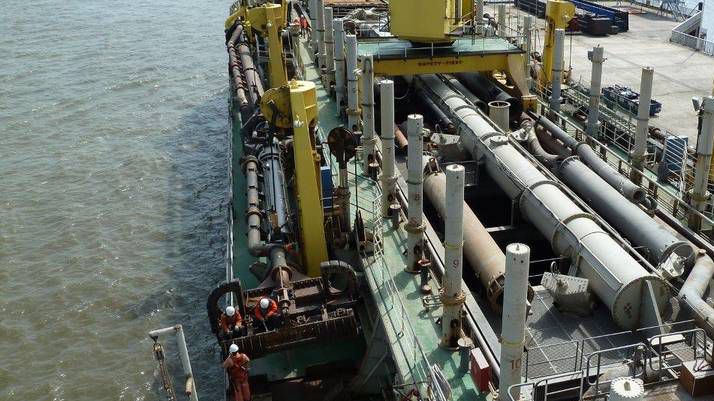 File image courtesy Boskalis
For years, the port of Hamburg has sought to dredge the 70 nm of shipping channels on the lower Elbe to a depth 51 feet, which would allow the world's biggest box ships to call with more cargo. The present depth of 47.5 feet is too shallow, and giant vessels like the CSCL Indian Ocean can't reach Hamburg unless they carry a light load. 
Hamburg's terminal operators say that there is a huge potential for increased traffic if the dredging were completed, potentially tripling Hamburg's TEU volume within a decade. If the project is not done, they warn, the port runs the risk of losing that business to larger competitors like Rotterdam.
However, environmentalists are concerned over the potential effects of dredging on the marine environment. The advocacy groups NABU (Nature and Biodiversity Conservation Union) and BUND (Friends of the Earth Germany) have sued to halt the dredging project, citing endangered species that could be affected by altered tidal patterns on the river. On Thursday, a court in Leipzig ruled that while the proposal violates a habitat protection law as it is now written, Hamburg can still deepen the Elbe if it comes up with an adequate plan to address the environmental risks. The port operator's association said in a statement that it believes a supplementary planning process can be completed in 2018, paving the way for dredging to move forward at last. 
In a statement, BUND and NABU claimed that the court decision was a vindication of their position, at least in part. "Once again, the [port] authorities have failed to submit a legally-compliant plan for the planned Elbe deepening – after ten years of litigation. The planning authorities would be well advised to finally take environmental legislation seriously," the groups said. They suggested that the environment and the economy would be better served by directing the largest vessels to the JadeWeserPort terminal at Wilhelmshaven, which has no draft restrictions and is operating well under capacity. 
http://www.emaritimeexchange.com/wp-content/uploads/emaritime-exchange-logo-2017-300x119.png
0
0
George Ward
http://www.emaritimeexchange.com/wp-content/uploads/emaritime-exchange-logo-2017-300x119.png
George Ward
2017-02-10 01:38:00
2017-02-10 01:38:00
Hamburg Wins Partial Approval for Elbe Dredging