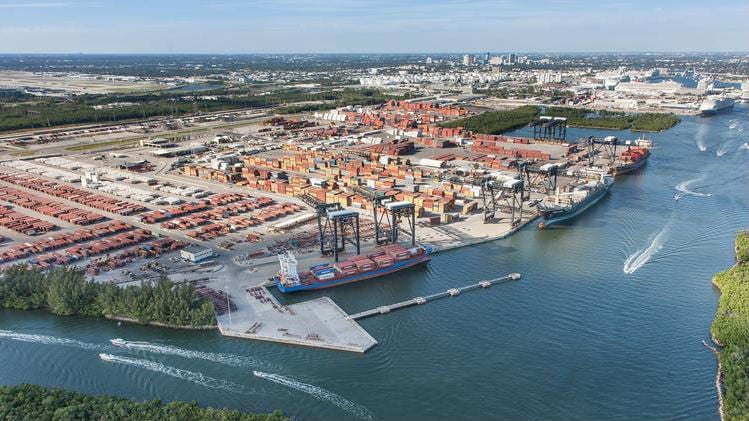 Port Everglades (file image)
On Thursday, just days after it received the first legal export shipment from Cuba to the U.S. in 50 years, Port Everglades canceled plans for a written agreement with Cuban port authorities. Two other Florida ports – Port of Tampa Bay and Port of Palm Beach – have also rolled back their plans for similar agreements following a stern warning from Florida governor Rick Scott.
On Wednesday, Scott tweeted that he was "disappointed some FL ports would enter into any agreement with Cuban dictatorship." 
"I will recommend restricting state funds for ports that work with Cuba in my budget. We cannot condone Raul Castro's oppressive behavior. Serious security/human rights concerns," Scott wrote.
The legislature has final say over Florida's budget, but Scott has significant power in shaping its priorities. In the past, he has been a leading advocate for state funding for port initiatives, notably Florida's $110 million investment in PortMiami's harbor deepening project. 
Port Everglades had been working on an agreement with Cuban officials for nearly a year, and it would have been signed at a meeting with Cuban trade delegates in Fort Lauderdale on Thursday. Broward County Commissioner Chip LaMarca told the Miami Herald that the governor's statement had led the port to change its plans. "The port director was a little upset way things transpired, nevertheless he understood the governor's position," LaMarca said. "With respect to the MOU it was canceled yesterday afternoon once the governor's position was made." 
Port of Tampa Bay had also planned to sign an agreement with its Cuban counterparts, but on Thursday, VP for communications and external affairs Ed Miyagishima said that it would hold off for now. "The port itself is Cuba-ready, in the sense that we're ready to work with all the entities once the embargo is lifted, but we're taking a very conservative approach," he told the Miami Herald. "We are not signing an MOU with the Cuban government, just because there's so much ambiguity in Cuba policy right now."
In a press conference Thursday, Governor Scott clarified that he was only concerned about seaports, and did not intend for his remarks to extend to Florida's airports. Commercial flights to Havana resumed last year.
https://www.emaritimeexchange.com/wp-content/uploads/2016/02/emaritime-icon-1030x1030.png
1030
1030
George Ward
http://www.emaritimeexchange.com/wp-content/uploads/emaritime-exchange-logo-2017-300x119.png
George Ward
2017-01-26 18:14:00
2017-01-26 18:14:00
Governor Blocks Florida Ports' Agreements with Cuba