The German research vessel Polarstern is planning to embark on a mission that most vessels would do anything to avoid: she is going trap herself in the ice. 
In the fall of 2019, the 400-foot icebreaker will sail to 84 degrees N 120 degrees E, in the East Siberian Sea, with the intention of getting icebound. Once locked in the pack, she will be carried by the Transpolar Drift past the North Pole. It will be a remarkable 1,500 mile, one-year journey, and a rare opportunity for scientists to learn more about the high Arctic environment in the dead of winter.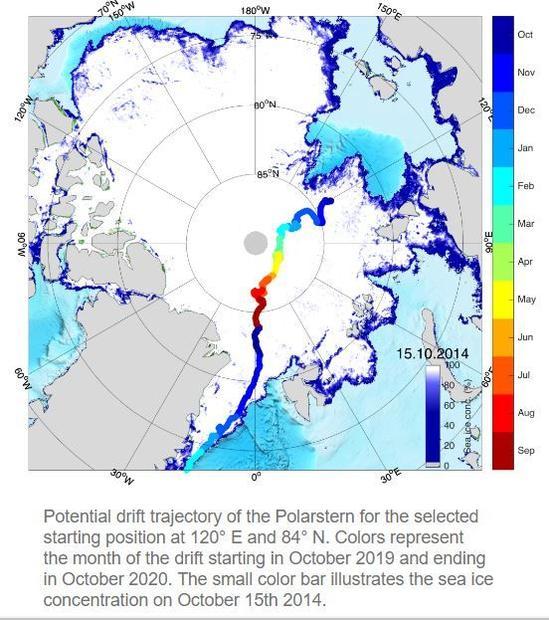 Dr. Markus Rex of the Alfred Wegener Institute will lead the expedition, which will be called "MOSAIC." "We're bringing a vessel full with equipment: many, many measurement containers and remote sensing in-situ instruments," Rex told the BBC. "And we'll set up camps on the sea-ice close to the Polarstern and others up to 20-30km away. And the whole set-up will drift across the Arctic." The team even plans to set up runways on the ice so that aircraft can assist the expedition.
The $70 million voyage is a joint effort by Russian, American, Chinese, British and German institutions. The team's observations will help improve computer modeling of sea-ice environments, which will feed into larger-scale climate models developed by the World Weather Research Program and the World Climate Research Program. "The decline of Arctic sea-ice is much faster than the climate models can reproduce and we need better climate models to make better predictions for the future," Rex said. "There is a potential that in a few decades the Arctic will be ice-free in summer. That would be a different world and we need to know about that in advance."
The expedition is not unprecedented. The route was first attempted by famed Norwegian explorer and Nobel laureate Fridtjof Nansen in 1893: Nansen locked his ship in the ice in the East Siberian Sea and drifted with the pack to 84 degrees N, then traveled by dogsled to 86 degrees 13 minutes N – a record at the time. His vessel emerged from the ice near Spitzbergen in the fall of 1896. 
http://www.emaritimeexchange.com/wp-content/uploads/emaritime-exchange-logo-2017-300x119.png
0
0
George Ward
http://www.emaritimeexchange.com/wp-content/uploads/emaritime-exchange-logo-2017-300x119.png
George Ward
2017-02-21 01:22:00
2017-02-21 01:22:00
German Icebreaker to Transit North Pole