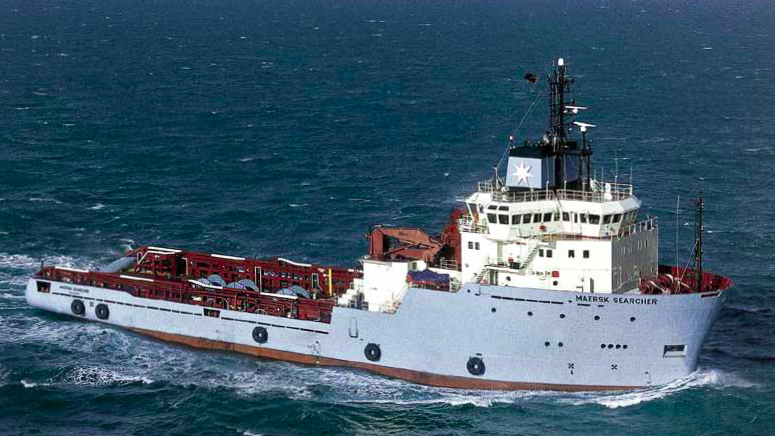 French coast guard agency Prefecture Maritime Atlantique has asked Maersk Supply Service to continue to investigate the risk of pollution from two platform supply vessels that went down in the English Channel last year.
On the night of December 21, the PSVs Maersk Searcher and Maersk Shipper were under tow off Sein Island on their final voyage to a Turkish scrapping yard. For reasons that have not yet been determined, the two vessels took on water and went down about 60 nm off the coast.
Shortly after the accident, a Maersk Supply Service official said that both ships had been emptied of fuel and lubricants in preparation for scrapping. However, a review of the vessels' records led authorities to estimate that at the time of the sinking, the vessels contained roughly 100 cubic meters (25,000 gallons) of hydrocarbon residues each, which could pose a risk to the environment if released.
Upon a request from the French authorities, Maersk Supply agreed to locate the wrecks, and at the end of December the multi-purpose support ship Jif Surveyor found them at two separate positions. The Prefecture Maritime Atlantique asked Maersk to further investigate in order to determine how much damage they had sustained and whether they posed any risk of pollution.
Maersk Supply chartered the survey vessel Jif Xplorer and an ROV to examine the wrecks, and found that the Searcher and Shipper had suffered heavy damage to their bows upon striking the seabed. The firm found no evidence of oil pollution at the scene, but French Navy and French Customs air patrols have observed an iridescent sheen in the vicinity of the wreck sites on several occasions.
In collaboration with Maersk, Prefecture Maritime Atlantique has formulated a long-term monitoring plan for the wrecks, which includes:
- an analysis of the contents of several hydrocarbon tanks within both hulls;
- ongoing monitoring of the marine environment around the wreck sites for a period of three years; 
- and further underwater investigations into the state of the wrecks. 
Depending upon the results of these studies, Prefecture Maritime Atlantique said that it may require Maersk to pump out some or all of the tanks. 
http://www.emaritimeexchange.com/wp-content/uploads/emaritime-exchange-logo-2017-300x119.png
0
0
George Ward
http://www.emaritimeexchange.com/wp-content/uploads/emaritime-exchange-logo-2017-300x119.png
George Ward
2017-03-02 21:50:00
2017-03-02 21:50:00
French Authorities Ask Maersk to Monitor PSV Wrecks