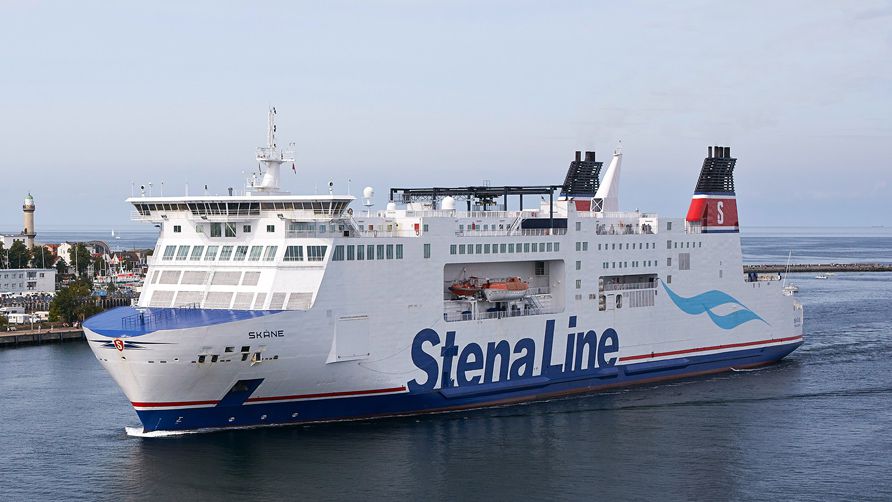 File image courtesy Stena
On Thursday, Stena Line evacuated the ropax ferry Skåne after a cleaning crew found a suspected explosive device on board.
The Skåne was just about to depart Trelleborg when a suspicious-looking small red box was found in one of the vessel's cabins; the unknown object reportedly had cables attached to it. The captain called the police, and the crew sounded the alarm and began to offload passengers.
The ferry was due to depart at 2200 hours. The bomb squad finished evaluating the suspected device at 0040 hours Friday, and determined that it was harmless: The unidentified object was in fact a solar-powered flashlight.
"The police say that we did the right to call them," said Stena Line spokesman Jesper Waltersson, speaking to Ystads Allehanda. "For us, safety is the most important."
About 80 passengers were taken to the ferry terminal, some leaving their cars aboard. The crew began to reload the ship toward 0100 and expected a departure towards 0200. Passengers were offered a buffet meal when they returned on board. 
Bomb scares and threats are not entirely unusual for ferry operators like Stena. Last year, the Corsica ferry at Marseille had to be evacuated after passengers reported that they had heard an explosion on board. Similarly, cross-Channel ferry operations out of Portsmouth Harbour had to be suspended briefly in November when a piece of unexploded ordnance from WWII was found on the seabed.
The abundance of caution operators use when confronting these risks is borne out of experience, as not all bomb scares turn out to be false alarms: the Superferry 14 bombing in 2004 was the world's deadliest terrorist attack at sea, resulting in the death of 116 people. 
http://www.emaritimeexchange.com/wp-content/uploads/emaritime-exchange-logo-2017-300x119.png
0
0
George Ward
http://www.emaritimeexchange.com/wp-content/uploads/emaritime-exchange-logo-2017-300x119.png
George Ward
2017-02-02 19:28:00
2017-02-02 19:28:00
Flashlight "Bomb" Prompts Ferry Evacuation