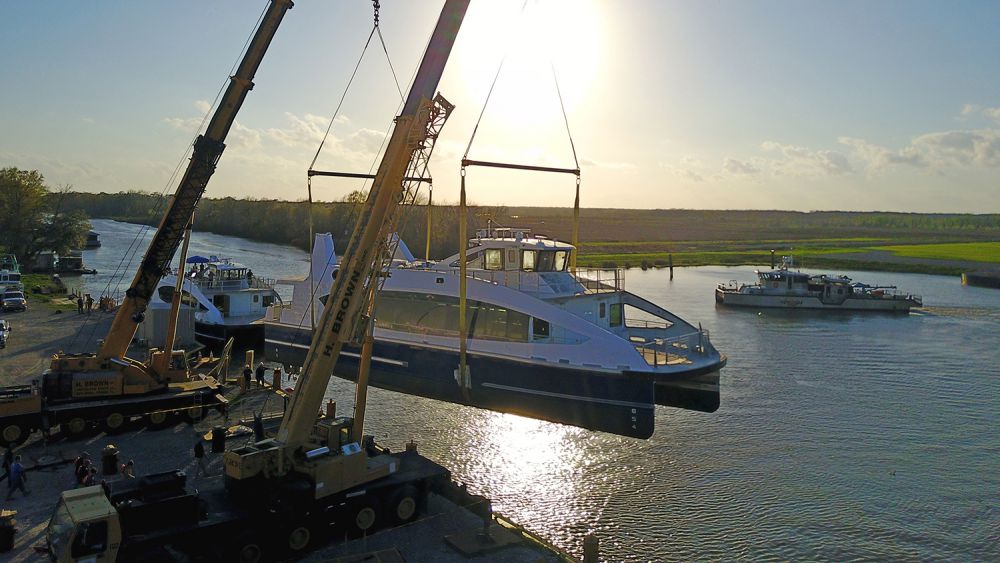 Last week, a Louisiana shipyard's first hulls for New York's new Citywide ferry service were lifted off the pier and onto the water, a milestone for the renewal of the city's waterborne transportation system. 
The aluminum-hulled vessels were built by Jeanerette-based Metal Shark, a yard that has historically specialized in series-production boats for defense and law enforcement. Metal Shark and competitor Horizon share a contract for a series of 19 ferries for Citywide, which will be operated by Hornblower subsidiary HNY Ferry Fleet. When fully operational, the system will offer six routes leaving Manhattan for North Brooklyn, South Brooklyn, Astoria (in two ways), the Rockaways and Soundview. In the future, the service could expand to include routes to Coney Island and Staten Island.
"Today with the launch of these first two vessels we reached an important milestone on the CityWide Ferry project, which we commenced in July," said Metal Shark CEO Chris Allard. "We're on a rigorous schedule to get these boats completed and delivered on time. Fortunately we had planned the bulk of the logistics prior to the award of the contract, and we're happy to say we're right on schedule."
Metal Shark is also about to start construction on four passenger vessels for the Potomac Riverboat Company, plus two more for the New Orleans Regional Transit Authority. With all of the new business, the yard needs more room, and it will pour the foundation for a new 16,000 square foot assembly building within the next few weeks.
Over in Bayou La Batre, Alabama, Horizon Shipbuilding launched its first Citywide ferry hull on February 13, and the vessel is scheduled for completion this month. The deadline for delivery of the Citywide fleet is coming up quickly, and the firm intends to build 10 of 13 contracted vessels by this summer. To accommodate rough conditions on the less sheltered route from Manhattan to the Rockaways, three of the Horizon-built boats will have a slightly higher freeboard and a deeper draft.
The New York Times reports that the rapid construction timeline for the vessels stems in part from the needs of Mayor Bill de Blasio's reelection campaign: Citywide is one of his main initiatives, and his aides would prefer to have it in operation before he runs for another term this November.
http://www.emaritimeexchange.com/wp-content/uploads/emaritime-exchange-logo-2017-300x119.png
0
0
George Ward
http://www.emaritimeexchange.com/wp-content/uploads/emaritime-exchange-logo-2017-300x119.png
George Ward
2017-03-03 01:48:00
2017-03-03 01:48:00
First NYC Citywide Ferry Hits the Water in Louisiana