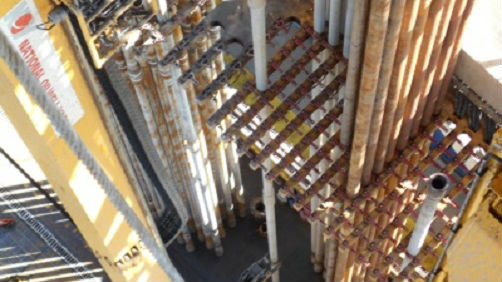 The U.S. Bureau of Safety and Environmental Enforcement (BSEE) has released its report into the October 20, 2015 fatality at Keathley Canyon Block 96 in the Gulf of Mexico.
The fatality occurred onboard the drillship Pacific Santa Ana. The ship, owned by Pacific Drilling, was operating approximately 250 miles south of Lake Charles, Louisiana. She was under contract to Chevron USA and drilling an exploratory well at the time.
The drill crew onboard was in the initial stages of the drilling process, lowering the Bottom Hole Assembly and 36 inch structural casing to the sea floor in order to begin making the well. This process involved work on the drill floor to successively connect lengths of pipe and lower them through the rig's main drill center.
A floor hand employed by Pacific Drilling died when he was struck in the head by the bottom end of 6 ⅝ inch drill pipe as it was being moved from its storage location to the main drill center. The day of the incident was the victim's first shift after having been fully promoted to floor hand.
The BSEE's investigation panel consisted of professionals from both BSEE and the United States Coast Guard. Based on the investigation, the Panel concluded that the fatal incident was the result of the failure of a rod seal during pipe handling operations and the victim moving into a no-entry zone while a pipe stand was being moved.
In addition, the Panel identified the following contributing factors:
Insufficient supervision over an employee new to a position.
Assignment of multiple tasks to an employee new to a position.
Failure to recognize risks associated with an operation.
A safety bulletin is available here.
The full report is available here.
http://www.emaritimeexchange.com/wp-content/uploads/emaritime-exchange-logo-2017-300x119.png
0
0
George Ward
http://www.emaritimeexchange.com/wp-content/uploads/emaritime-exchange-logo-2017-300x119.png
George Ward
2017-03-07 00:07:00
2017-03-07 00:07:00
Fatal Accident First Day After Promotion