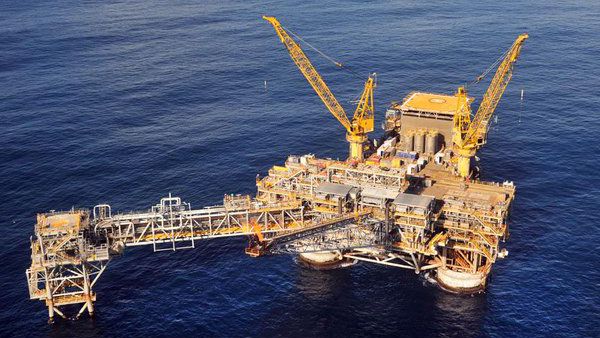 West Tuna platform (courtesy ExxonMobil)
On Thursday, Australia's National Offshore Petroleum Safety and Environmental Management Authority (NOPSEMA) said that oil firm Esso had notified it of an oily sheen next to the West Tuna platform, 25 nm offshore in the Bass Strait.
The facility's export pipeline was depressurized and it will remain shut down while authorities investigate. According to computer models, the spill is expected to dissipate, and there was no visible sheen on the surface as of February 2. NOPSEMA said that it cannot comment further on specifics while it investigates the incident. 
An electrical fire on the same platform  in 2015 burned for nine hours and forced the evacuation of nonessential personnel. At the time, the Australian Worker's Union asserted that Esso had cut back on safety inspections. "The more often you are checking what is a very remote workplace and all of the infrastructure that goes with it, like the battery packs in the room, the better," said union spokesman Ben Davis, speaking to ABC. "And in recent times they've cut that back from four times a year to once and that's a problem." Esso contested his claim and noted that its operations fully comply with regulatory requirements. 
At the time of its installation, West Tuna was the largest offshore structure in Bass Strait. It was assembled onshore and towed into position in 1996. Peak production from West Tuna and its sister platform Bream B was expected to reach 30,000 bpd, with total resource recovery approaching 100 million barrels over three decades. 
West Tuna is also slated to be the offshore processing facility for the adjacent Kipper field, which was approved for development in 2007 at an estimated cost of $1 billion. However, the joint venture behind Kipper has delayed its startup due to the need for additional equipment to remove mercury from the gas stream. 
http://www.emaritimeexchange.com/wp-content/uploads/emaritime-exchange-logo-2017-300x119.png
0
0
George Ward
http://www.emaritimeexchange.com/wp-content/uploads/emaritime-exchange-logo-2017-300x119.png
George Ward
2017-02-03 00:59:00
2017-02-03 00:59:00
Esso Reports Oily Sheen at Australian Offshore Platform