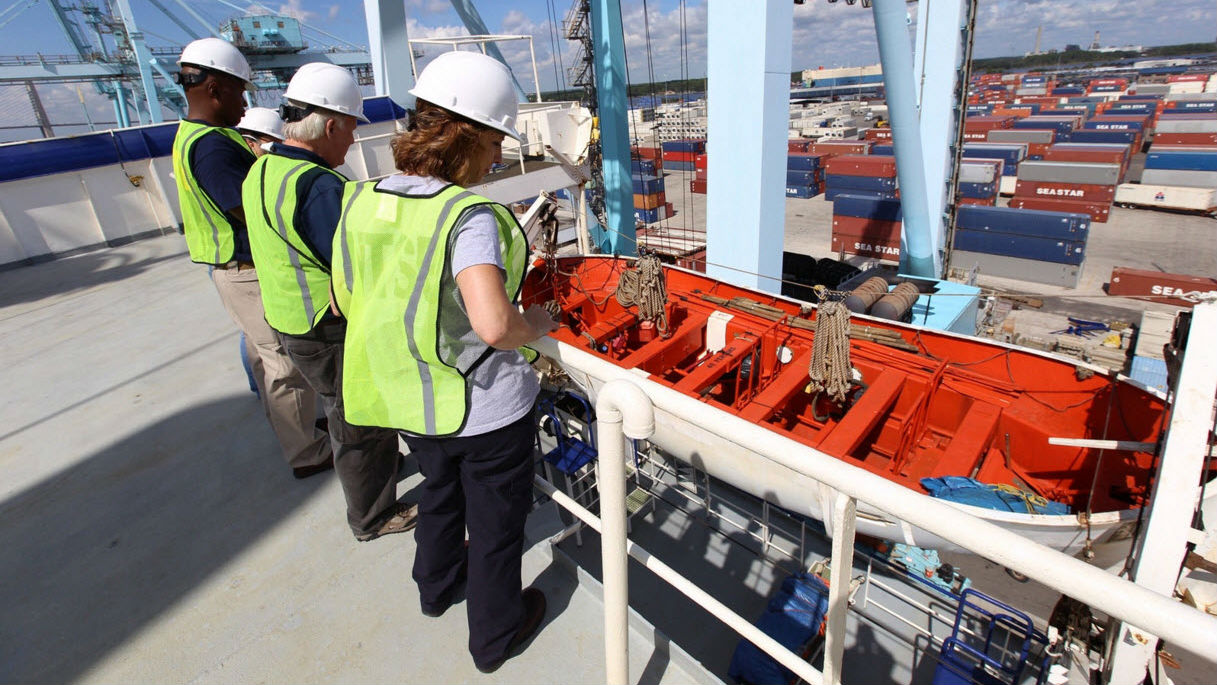 On Wednesday, the Marine Board of Investigation into the loss of the con/ro El Faro continued with testimony from a former member of the Polish "riding gang," a work crew that was on board to get the vessel ready for her new Tacoma-to-Alaska route. Worker Marek Pupp testified via Skype about the riding gang's relationship with the crew and its role in day-to-day shipboard activity.
Pupp had done electrical work on the El Faro while underway, and he de-crewed the day before her final sailing. He alleged that while a drill schedule was publicly posted, the riding gang had not attended any of the crew's on-board safety meetings. "We did not participate in those drills because they did not apply to us," he said. Further, he said that he did not recall an initial safety orientation when he came aboard; had not tried on a life jacket or immersion suit; and was not aware of the Atlantic hurricane season at the time he sailed.
Pupp's testimony was translated from Polish by a Coast Guard interpreter and was provided to the hearing in summary form. His command of English was "weak," according to the translator, and he said that the El Faro's crew had communicated with the riding gang through one bilingual worker. 
El Faro EPIRB lacked GPS encoding
After the El Faro went down, her EPIRB activated as designed and transmitted a distress signal. However, the National Oceanic and Atmospheric Administration (NOAA) was unable to get a precise fix on its location, and the Coast Guard had to launch a search effort to find the vessel's debris field.
On Wednesday, Mickey Fitzmaurice and Chris O'Conner of NOAA's SARSAT program explained why the El Faro's position was not immediately identified: her EPIRB did not transmit long enough for multiple satellites to "see" it and triangulate its position, and it did not send a signal encoded with GPS lat/long data. "The beacon lacked [GPS] encoding capabilities which would have allowed the operational system to provide a location through the detected GEOSAR data," Fizmaurice wrote in a briefing document. (The Coast Guard recommends – but does not require – the use of a GPS-enabled EPIRB.)
Whistleblower takes the stand
On Tuesday afternoon, a whistleblower took the stand to testify about a former El Faro chief mate who had repeatedly fallen asleep on watch.
Former El Faro AB Marvin Hearman III said that both of the ship's captains had caught the mate sleeping on watch, and he suggested that "it should have gotten handled then . . . everybody knew what's going on." Hearman was the chief mate's watch partner, and he said that he'd often woken him up and asked him to walk around the bridge to stay alert. "Any chance he gets, he'll go to sleep," Hearman said. 
Hearman said that the crew had taken over "50 to 60 pictures" of the mate asleep on the bridge. After he grew frustrated with the situation, Hearman texted some of these photos to the firm's Designated Person Ashore (DPA), anonymously and without going up the chain of command. During the hearing, Hearman suggested that anonymity was important because contacting the Coast Guard or the DPA directly would lead to dismissal. "If you go on any ship in the fleet and call the DPA, you are going to get fired," he alleged. 
After the Board's questioning, a TOTE attorney asked Hearman about an incident in which a Customs and Border Patrol drug dog had "alerted" at the door to Hearman's cabin. Hearman said that Customs had found no drugs in his cabin, and that he had taken and passed a drug test. 
TOTE formally contested Hearman's claims after the hearing. "While we appreciate Mr. Hearman participating in the investigation, we strongly disagree with his testimony. There have been many expert witnesses from the Coast Guard, ABS, TOTE, past crew members and other industry experts who have already testified under oath and their testimony contradicts Mr. Hearman's opinions," the firm said in a statement.
http://www.emaritimeexchange.com/wp-content/uploads/emaritime-exchange-logo-2017-300x119.png
0
0
George Ward
http://www.emaritimeexchange.com/wp-content/uploads/emaritime-exchange-logo-2017-300x119.png
George Ward
2017-02-16 02:07:00
2017-02-16 02:07:00
El Faro Riding Gang May Have Had Little Safety Training