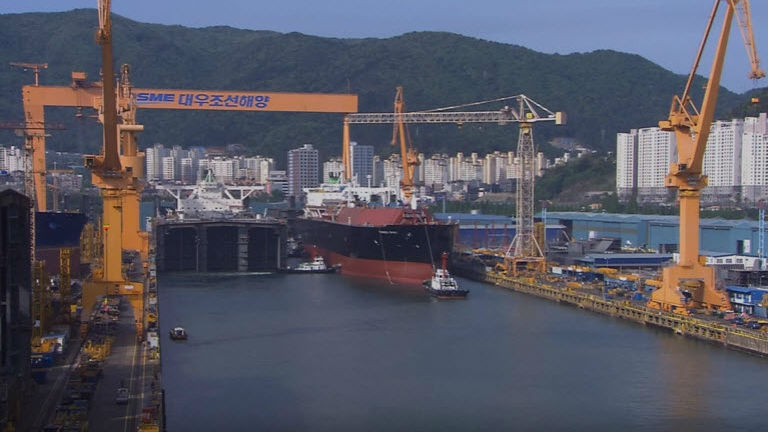 Daewoo Shipbuilding & Marine Engineering, the most troubled of South Korea's "Big Three" shipbuilders, has received a lifeline in the form of an order for up to four LNG carriers. 
In a stock exchange filing on Thursday, DSME announced that it had clinched an order with a European operator for two 175,000 cubic meter LNG carriers, valued at $180 million apiece. The first vessel is slated for delivery in the second half of 2019. 
The contract also provides options for two more vessels, bringing the potential total value to $720 million. The advance payment on the order will help the yard meet its obligations on some $380 million in debt that is due to mature in April. 
DSME signed a letter of intent for up to seven FSRUs for Excelerate Energy in February, but the LNG carrier order is the company's first firm, signed contract of the year. It is also the first newly-signed order of the year in its category. Only 11 of the costly, complex ships were ordered last year – a low volume relative to years past and a poor showing for South Korean shipbuilders, who are the market leaders in LNG carriers and FSRUs.
DSME did not name the buyer, but insiders suggest that the deal is linked to John Fredriksen-controlled Flex LNG. Flex announced in mid-February that it was looking at the possibility of ordering two new ME-GI-engined LNG carriers on behalf of Fredriksen's Geveran Trading, its largest shareholder.
Fredriksen's tanker operator, Frontline, also bought two nearly-complete VLCCs from DSME in February on a resale contract. The original buyer canceled the order for the pair last year, and Daewoo will finish and deliver them for Frontline instead.
The contracts appear to represent a vote of confidence in DSME's continued operations, but some analysts are not so certain: global consulting firm McKinsey said in October that out of South Korea's Big Three shipbuilders, DSME is the "least likely to survive by 2020." DSME disputed the findings, describing them as "based on completely false assumptions," but it has a shrinking orderbook and more than $800 million in debt maturing this year alone. The head of state-owned Korea Development Bank recently announced that the yard would receive no more public funding for restructuring its balance sheet; KDB provided DSME with one last aid package in January – a multi-billion dollar capital increase, share conversion and debt-for-equity swap that gave the bank a controlling stake of 79 percent – but Korean public support for industry bailouts is on the decline, limiting KDB's ability to continue its assistance.
http://www.emaritimeexchange.com/wp-content/uploads/emaritime-exchange-logo-2017-300x119.png
0
0
George Ward
http://www.emaritimeexchange.com/wp-content/uploads/emaritime-exchange-logo-2017-300x119.png
George Ward
2017-03-02 20:13:00
2017-03-02 20:13:00
DSME Secures Firm Order for Two LNG Carriers