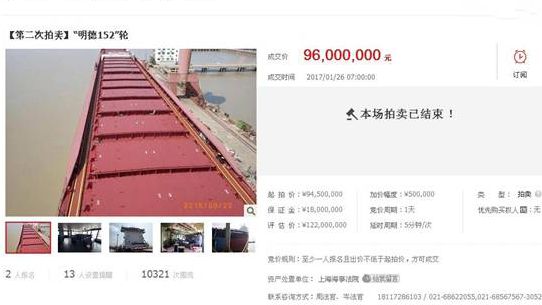 The VLCC Varada Blessing was auctioned off this week through a court-ordered listing on Taobao.com, the Chinese e-commerce platform better known for low-cost consumer goods. The 1993-built, 300,000 dwt tanker brought in $11.7 million at the close of her third time at auction; the two previous rounds failed to go over the reserve price.
This transaction is part of an increasing trend in the Chinese court system towards the use of online auctions for asset sales and liquidations. According to Xinhua, over 100 courts in Guangdong alone have set up shop on Alibaba-owned Taobao, and they brought in a combined $1.5 billion in online sales last year. That trend extends to admiralty disputes and maritime bankruptcies: defunct operator Wenzhou Shipping recently sold three bulkers, a tug and an oil barge through Taobao for a total of $22 million, about a quarter more than the original asking price; separately, the Indonesian-owned freighter Mahoni was sold in late January to settle unpaid wage claims from her crew, bringing in about $2.4 million. 
The online sales are not limited to used vessels. The Mengde 152, a newbuild bulker constructed by Nantong Minde Heavy Industry, recently set the record for China's highest-price online ship auction at $14 million. The Mengde was purpose-built for service on the Great Lakes, making her more attractive to foreign bidders, so Shanghai Maritime Court set up the auction so that overseas buyers could bid for the Mengde in U.S. dollars.
"Online auctions can boost enthusiasm for this kind of activity since they require less time and expense, and the process of making bids is clearer compared to traditional auction modes," said Shanghai Maritime Court official Ni Zhongyue, speaking to Hindustan Times. Ni also suggested that opening up the auction process to a wider audience discouraged collusion: "Online auctions can avoid potential buyers communicating before making bids in order to keep prices low," he said.  
http://www.emaritimeexchange.com/wp-content/uploads/emaritime-exchange-logo-2017-300x119.png
0
0
George Ward
http://www.emaritimeexchange.com/wp-content/uploads/emaritime-exchange-logo-2017-300x119.png
George Ward
2017-02-22 23:29:00
2017-02-22 23:29:00
Chinese Courts Turn to Online Auctions to Sell Ships