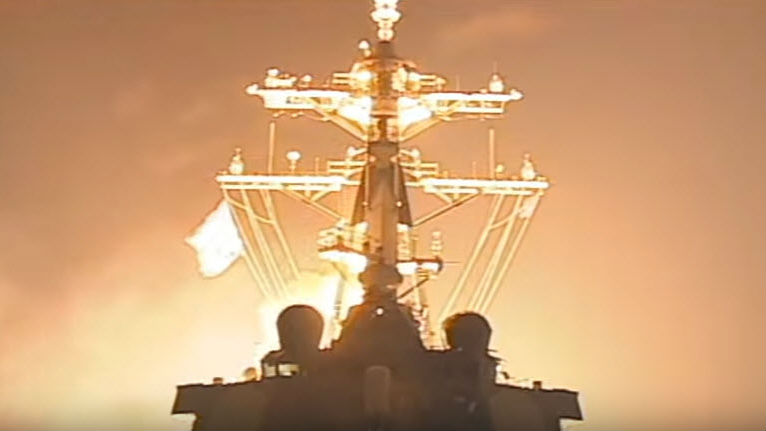 China has called on the U.S. and Japan to show "great care" after the two countries jointly tested ship-board anti-missile technology on Friday. 
The U.S. Missile Defense Agency and Japan's Ministry of Defense successfully tested the first intercept of a ballistic missile using Raytheon's latest technology, the Standard Missile-3 (SM-3) Block IIA on February 3. 
The SM-3 Block IIA is being developed cooperatively by the United States and Japan to defeat medium- and intermediate-range ballistic missiles. The "hit-to-kill" interceptor uses a "kill vehicle" to collide with targets in space, a capability that's been likened to hitting a bullet with a bullet. It destroys ballistic missiles in space using the power of its impact, equivalent to a ten-ton truck moving at 600 miles per hour. The latest model, IIA, features larger rocket motors and a bigger, more capable kinetic warhead to engage threats sooner and protect larger regions from short-to-intermediate-range ballistic missile threats.
Ship-based interceptors are part of U.S. defense plans against a possible attack on the U.S. or its allies by North Korea, which has continued to develop ballistic missiles despite United Nations sanctions. The successful test means the program is on track for deployment at sea and ashore in 2018.
The technology test has some Chinese experts saying that it will break the global strategic balance and trigger an arms race.
"China always believes that the anti-missile issue bears on global strategic stability and mutual trust among major powers, and therefore shall be approached with great care," Chinese foreign ministry spokesman Lu Kang told a press briefing on Monday.
"All countries, while preserving their own security interests, shall also respect the security concerns of others, follow the principle of maintaining global strategic stability and compromising security of no other nations."
Major General Yao Yunzhu, a senior researcher at the People's Liberation Army's Academy of Military Science in China, told the Global Times on Tuesday that the successful missile test not only posed threat to China's military security and but also breaks the balance between the U.S. and Russia.
http://www.emaritimeexchange.com/wp-content/uploads/emaritime-exchange-logo-2017-300x119.png
0
0
George Ward
http://www.emaritimeexchange.com/wp-content/uploads/emaritime-exchange-logo-2017-300x119.png
George Ward
2017-02-08 23:49:00
2017-02-08 23:49:00
China Urges Caution After Anti-Missile Test