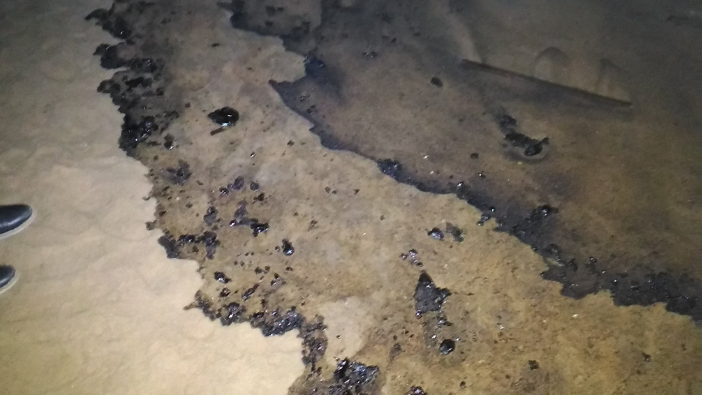 As thousands of workers respond to an oil spill along the coastline of Chennai, the Indian Coast Guard's inspector general told media Friday that the amount of petroleum released into the Bay of Bengal last weekend was ten times greater than initially reported. 
The LPG tanker BW Maple collided with the product tanker Dawn Kancheepuram (or Kanchipuram) about 1.5 nm off Chennai early Saturday morning, spilling what was initially thought to be as little as one to two tons of oil. Officials gave conflicting accounts Friday about the extent of the spill, but all agreed that it was much larger than originally believed. A spokesman for the Coast Guard in Chennai told the New York Times that 20 tons of oil had leaked into the Bay of Bengal, but the fisheries minister for Tamil Nadu put the amount in the range of 80 tons.
The authorities have launched a massive cleanup operation involving at least 2,000 people, including local volunteers, and they have reported partial success along a 25-mile stretch of coastline. "There may be 10-15 tonnes [of] oil still left and hopefully it will be cleaned up by Friday evening," said Commandant Pradeep Mandal, the officer in charge of the cleanup at Ramakrishna Nagar beach. 
The apportionment of blame for the size and effects of the spill may take some time. Mishra blames the Coast Guard for failing to contain the oil while it was still waterborne, leaving it to wash up on shore. A Coast Guard spokesman said that it was the port's responsibility to contain a spill of this magnitude. The owners of the Kancheepuram blame the port of Kamarajar: The vessel requested permission to berth at the port to assess and contain the damage, but the port resisted for days. "We wanted them to transfer the cargo to another ship, but they expressed inability," said an official from the port, speaking to New Indian Express.
The port finally bowed to pressure from the government and allowed the Kancheepuram to berth. Kamarajar port does not admit to any liability for the extent of the damage, though: managing director and chairman MA Bhaskarachar told Indian media that "there was no oil spillage inside the port" and that "outside the port area, it is the responsibility of other agencies."
As to the cause of the collision itself, the Indian authorities' initial assessment suggests that it occurred due to "miscommunication" or "misjudgment." The captains, the crews and the vessels have all been detained while an investigation continues. Both ships had tugs and pilots at the time of the incident. 
[embedded content]
http://www.emaritimeexchange.com/wp-content/uploads/emaritime-exchange-logo-2017-300x119.png
0
0
George Ward
http://www.emaritimeexchange.com/wp-content/uploads/emaritime-exchange-logo-2017-300x119.png
George Ward
2017-02-03 20:57:00
2017-02-03 20:57:00
Chennai Oil Spill is "Ten Times Bigger" Than Estimated