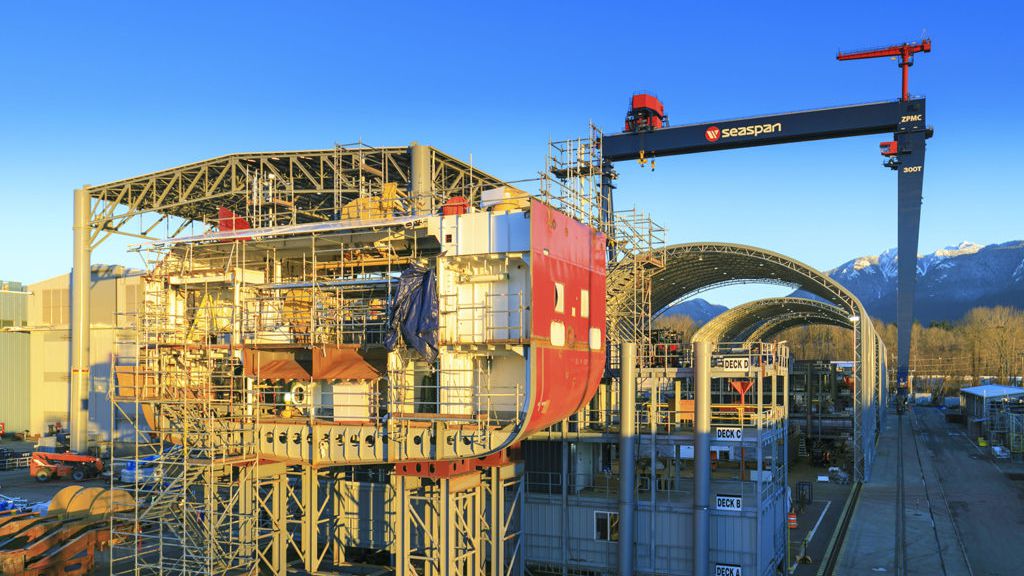 On Monday, Vancouver-based shipbuilder and vessel operator Seaspan ULC announced the retirement of longtime CEO Jonathan Whitworth. Frank Butzelaar, the president and CEO of Southern Rail Link (SRY), has been identified as Whitworth's permanent replacement, and the handover will begin in early March. The president of Seaspan Shipyards will continue to report directly to Whitworth through the end of the year, due to the specialized nature of the yard's contracts with the Canadian government.
Over the course of Whitworth's eight-year tenure, Seaspan has modernized its fleet and facilities. The firm invested $500 million in capital improvements, doubled its workforce, expanded its marine transportation businesses, and won the Canadian Coast Guard and Royal Canadian Navy's $8 billion non-combat vessel contract, which will keep its Vancouver yard busy for at least a decade. In addition, safety has improved, with the lost time injury rate falling by 200 percent.
"Working with the Seaspan team for the last eight years exceeded my expectations, and I cannot think of a better company with which to have ended my working career," Whitworth said in a statement. "I am incredibly proud of playing a part in Seaspan's success, and I'm equally convinced that under the leadership of Frank and the rest of the executive team there will be many more great years to come."
Frank Butzelaar comes to Seaspan from SRY, where he has worked since 1993. Like Seaspan, the rail operator is part of the Washington Companies, a diversified industrial conglomerate. "Frank is the ideal candidate to guide the Seaspan team into the future and continue the tradition of excellence," said Kyle Washington, Seaspan ULC's chairman. "Both Jonathan and Frank are making exciting transitions; I look forward to a bright future for them and the entire Seaspan team."
Seaspan ULC is a separate entity from leading container ship owner Seaspan Corporation, which is also based in Vancouver.
http://www.emaritimeexchange.com/wp-content/uploads/emaritime-exchange-logo-2017-300x119.png
0
0
George Ward
http://www.emaritimeexchange.com/wp-content/uploads/emaritime-exchange-logo-2017-300x119.png
George Ward
2017-03-01 01:29:00
2017-03-01 01:29:00
CEO of Seaspan Announces His Retirement