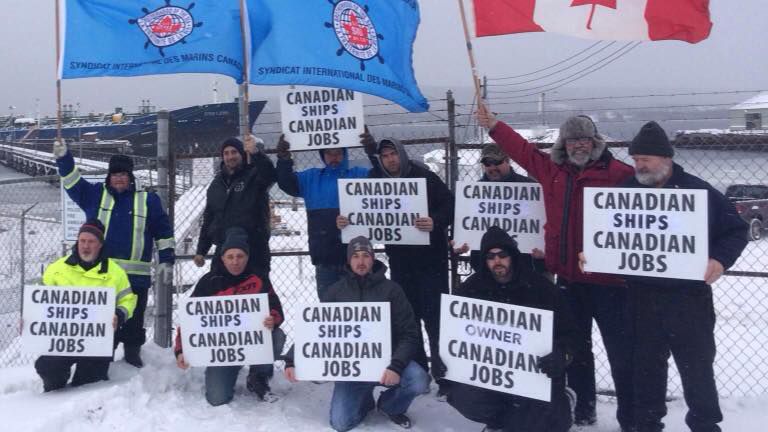 On Wednesday, the Canadian government settled dozens of lawsuits brought by the Seafarer's International Union of Canada (SIUC) regarding the employment of foreign seafarers in Canadian waters. The SIU hailed the agreement as a major victory for its members and for Canadian seafarers.
The SIU's 55 lawsuits alleged that the Canadian government had improperly issued thousands of work permits to non-citizens for purposes of crewing foreign ships on domestic voyages. (Canadian cabotage law generally forbids foreign-flagged ships from participation in coastwise trade, but it allows for waiver licenses.) The union found that the foreign workers were paid as little as $2.40 per hour, well under the Canadian minimum wage and much less than the prevailing wages for Canadian seafarers.
Last summer, the Canadian government admitted to improperly issuing 11 work permits for the foreign crew of the Marshall Islands-flagged tanker New England. With the settlement agreement reached on Wednesday, the union and the government will cease litigation in the remaining 44 cases. 
"After 18 months . . . I am very happy to see the government finally agree to what we sought all along – enforcement and a review of the rules with the full participation of the SIU Canada," said SIU president James Given. "We are confident that the terms of the settlement will lead to hundreds of jobs for Canadian seafarers who are qualified and available."
The settlement's terms include the enforcement of a requirement that foreign shipowners must advertise open crewing positions to Canadian seafarers; a full review of policies relating to "Temporary Foreign Worker" permits for foreign-flagged vessels on Canadian voyages, conducted in consultation with SIU Canada; and an investigation into the wage rates paid to foreign crews in Canadian waters. 
http://www.emaritimeexchange.com/wp-content/uploads/emaritime-exchange-logo-2017-300x119.png
0
0
George Ward
http://www.emaritimeexchange.com/wp-content/uploads/emaritime-exchange-logo-2017-300x119.png
George Ward
2017-02-15 23:30:00
2017-02-15 23:30:00
Canada Settles Lawsuits Over Foreign Seafarer Permits