On Thursday night, the self-unloading bulker Sterno went aground at the upstream entrance to the Lilla Edet locks on Sweden's Gota River, breaching her hull. The vessel took on water, listed over to port and partially sank, releasing fuel into the water and temporarily blocking off traffic. 
All eight crewmembers were rescued without injury. The vessel had a pilot on board, and the cause of the accident is not yet known. The crew tested negative for intoxicants. 
Six vessels were stuck upstream of the Sterno and could not get by her for several days. Over the weekend, salvors' measurements showed that the vessel's position was stable and that there was adequate room to navigate, and the ships were able to transit past the wreck.  However, the locks at Lilla Edet are closed to upstream traffic until further notice.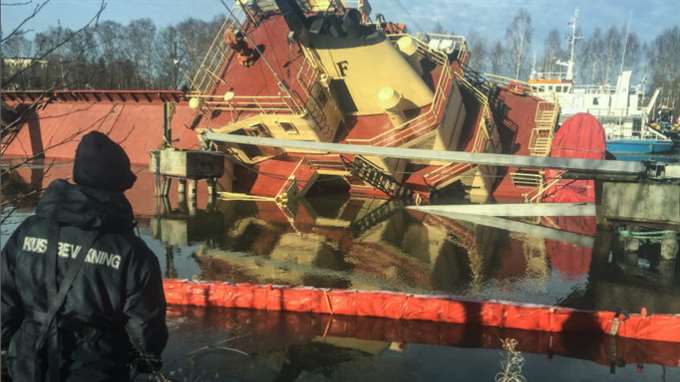 Sweden's Maritime Administration expects that the petroleum leak will be halted by the end of the week, and salvage planning is under way. 
The 1970-built Sterno has been involved in several other casualties over the years, including two groundings in 2012 and an allision with a bridge on Lake Malaren in 1998. Her last inspection found several minor deficiencies, including irregularities in her oil record book and out-of-date SOPEP documentation.
http://www.emaritimeexchange.com/wp-content/uploads/emaritime-exchange-logo-2017-300x119.png
0
0
George Ward
http://www.emaritimeexchange.com/wp-content/uploads/emaritime-exchange-logo-2017-300x119.png
George Ward
2017-02-28 01:21:00
2017-02-28 01:21:00
Bulker Goes Aground, Sinks on Gota River