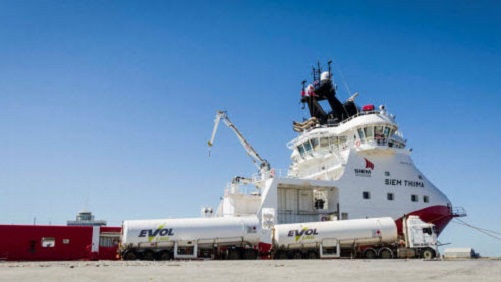 Australia's first commercial LNG bunkering completed in Western Australia's north‐west on January 23 by EVOL LNG for Woodside, and it has now been followed by the first LNG bunkering at Fremantle Port on February 19.
EVOL LNG successfully refuelled the platform supply vessel, Siem Thiima, on January 23 at King Bay Supply Base near Dampier. Business Manager, Nick Rea sees it as just the beginning. "With growing demand for lower emission fuels over the past decade, we've seen the number of LNG‐fuelled ships in operation worldwide increase steadily from a handful to more than 75, with an additional 80 expected to be built in the next three years."  
That growth had largely been driven by IMO regulations and the introduction of emission control areas in Europe and North America. In addition, China has introduced emission control areas around its three major ports.
As emission reduction efforts continued to become more important globally, including in Australia, the adoption of LNG as a low emission marine fuel was expected to increase.
  
"It's certainly an offering we'd like to expand, particularly as truck‐to‐ship LNG bunkering can be achieved relatively inexpensively with existing logistics assets.
"If interest is there, EVOL LNG will obtain licenses from other major Australian and regional Western Australian ports to conduct LNG bunkering operations, and look at investing in infrastructure to meet the market's needs."
Rea said EVOL LNG would be able to supply Fremantle customers with LNG at a price competitive with low‐sulfur marine diesel and would be able to refuel ships at up to 45 tons per hour, which is comparable to traditional bunker fuels.
EVOL LNG secured its second major Australian port bunkering license from Pilbara Ports Authority, permitting LNG bunkering at King Bay Supply Base and transport through the Port of Dampier. This followed its first license from Fremantle Ports in July last year.
Back in 2013, a DNV-led joint industry project identified 10 Australian ports which would have the potential to offer LNG bunkering by 2016, backed by attractive payback periods for investments with no significant legal restrictions hindering development.
The study focused on LNG fuelled offshore support vessels and tugs.
The project partners included the Australian Maritime Safety Authority, BOC Limited (Linde Group), Farstad Shipping, Ports Australia, Rolls-Royce Marine, Svitzer Australia, Swire Pacific Offshore Operations, Teekay Shipping (Australia), Woodside Energy and DNV GL.
This year, DNV GL has announced another joint industry project that will assess the commercial potential of LNG-powered bulk carriers in a "green corridor" between Australian and China. The project will culminate with the development of an LNG-fueled Capesize bulk carrier – an industry first.
The joint industry project, named Green Corridor, was recently launched in Singapore by partners BHP Billiton, Mitsui O.S.K. Lines, Rio Tinto, SDARI, Woodside, and international classification society DNV GL, who will take the lead in the project.
http://www.emaritimeexchange.com/wp-content/uploads/emaritime-exchange-logo-2017-300x119.png
0
0
George Ward
http://www.emaritimeexchange.com/wp-content/uploads/emaritime-exchange-logo-2017-300x119.png
George Ward
2017-02-20 08:48:00
2017-02-20 08:48:00
Australia's First LNG Bunkering Completed