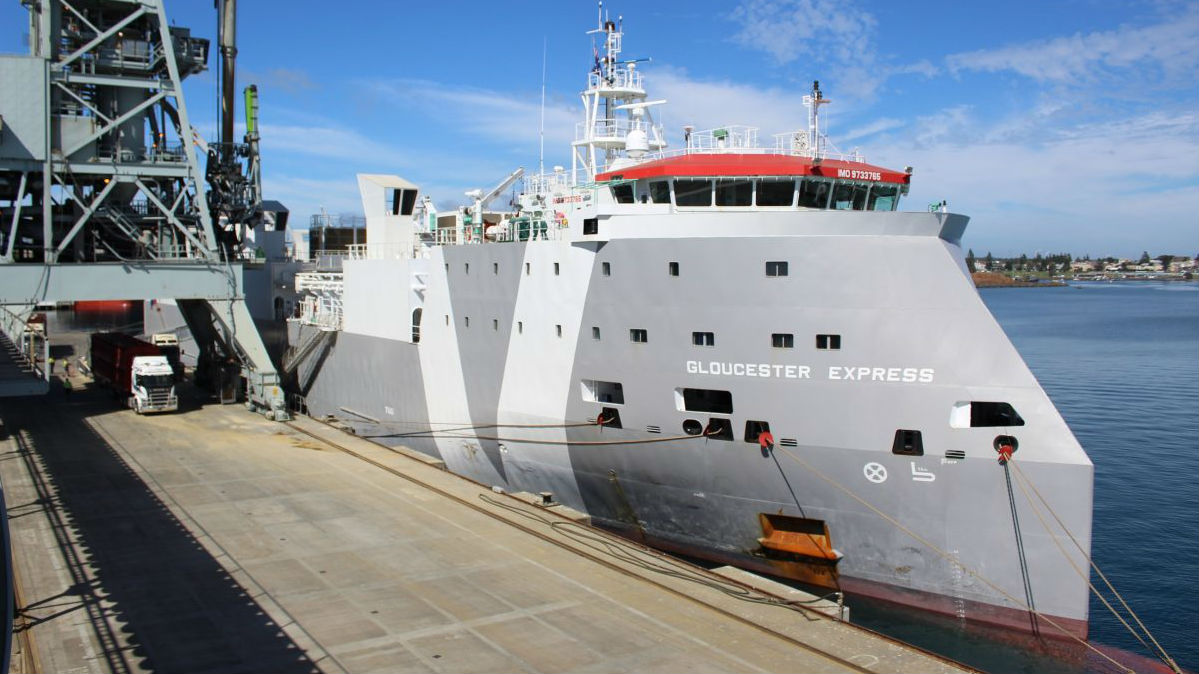 The Glouester Express at Portland, Australia, on Saturday during loading.
Australia has sent its first sea-bound shipment of live slaughter cattle to China.
Elders' North Australian Cattle Company (NACC) opened the sea-bound trade over the weekend, exporting 1,200 live beef cattle from Portland, Victoria, to Shidao Port in China.
The shipment consists of mainly Black Angus cattle, aged between 18 and 24 months, weighing an average of 500 kilograms (1,100 pounds).
The cattle have been imported by Baozhu Food Company, part of the Tai Xiang Group, for end-use customer, Shanghai CRED. The Tai Xiang Group is a leading Chinese company specializing in frozen processed food.
Tai Xiang have made significant investments in quarantine and processing facilities to ensure cattle are handled in accordance with the high standards required by Australia, the world leaders in animal welfare for the live export trade.
Manager of NACC, Patrick Underwood, said animal welfare is paramount to any Elders shipment, and particularly when opening a new supply chain.
Elders has been working very closely with Australian and Chinese authorities to ensure this supply chain operates above Australia's Exporter Supply Chain Assurance System (ESCAS) standards, Underwood said.
"In the months leading up to the shipment, Elders has been on the ground in China, to ensure our customer's facilities and techniques are above Australia's animal welfare expectations," he said.
Slaughter of the entire shipment will occur within 14 days of arrival, and Elders will have its own supply chain specialists in attendance to monitor compliance.
THE Australian Livestock Exporters' Council (ALEC) has welcomed the Chinese shipment.
ALEC chairman Simon Crean said the opening up of the China market for feeder and slaughter cattle reflected the growing global demand for live animals as a source of protein.
"This exciting emerging market is built on the values Australia shares with China around biosecurity, traceability, welfare and an appreciation for high-quality cattle and beef. These values have been the foundation of Australia's existing exports of beef and dairy breeder cattle to China, and so it is a natural progression for the trade to now extend into feeder and slaughter categories."
"China's 'closed loop' cattle supply chains will help ensure the highest possible health, welfare, control and traceability standards are upheld," Crean said. "It is another example of how Australia's livestock export industry is not only meeting the growing demand for live cattle in overseas markets, but continuing to ensure we are playing the leading role in improving animal welfare standards in the global live trade."
http://www.emaritimeexchange.com/wp-content/uploads/emaritime-exchange-logo-2017-300x119.png
0
0
George Ward
http://www.emaritimeexchange.com/wp-content/uploads/emaritime-exchange-logo-2017-300x119.png
George Ward
2017-02-06 21:51:00
2017-02-06 21:51:00
Australia Exports Slaughter Cattle to China