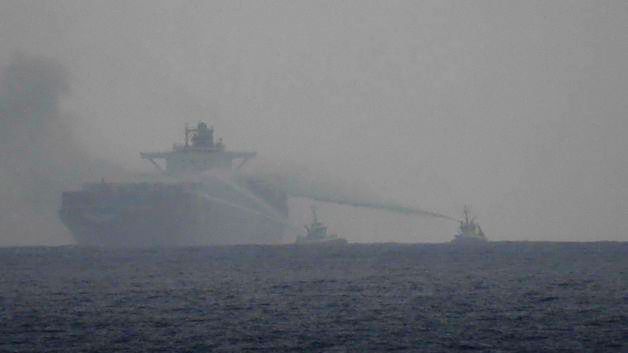 A cargo fire on the container ship APL Austria in Port Elizabeth, South Africa continued to burn on Wednesday. South African media reports suggested that the fire had been contained Tuesday night, but video from the scene this morning showed that it continued to smolder belowdecks. The vessel has been brought alongside at the Port of Ngqura, and the responders have removed burned containers from the above-deck stacks to give firefighters better access. As of yet, the responders have not been able to get down to the level of the fire. 
Port operator Transnet has deployed firefighting-equipped tugs to assist in suppressing the blaze and cooling the hull. Authorities say that the fire poses no structural danger to the vessel. 
The vessel is loaded with about 3,000 containers, and the operator says that there is hazardous material cargo on board, including refrigeration gases and paint. European experts in hazmat firefighting have been flown in to help deal with the blaze.
Captain Nigel Campbell of the South African Maritime Safety Authority told Herald Live that "we need to understand all of the cargo in the hold to decide on the medium to be used" to put out the fire. He added that the response team has placed less-flammable containers around the area of the blaze to create a firebreak. 
The fire broke out Monday as the Austria was arriving at the Algoa Bay anchorage. The response teams met her out in the bay, and were later allowed to moor her at Port Elizabeth as a port of refuge.
All crew are safe and accounted for. Four nonessential crewmembers were evacuated shortly after the fire broke out, according to the non-profit sea rescue organization NSRI; one of the evacuees had a leg injury and was treated on shore. 
Belowdecks cargo fires can be difficult to address on container ships, especially on larger vessels with deeper holds. The steel boxes compartmentalize and contain any smoldering cargo, and the location is difficult and dangerous for firefighters to enter. A container fire on the CCNI Arauco in Hamburg last September took 48 hours to put out: repeated attempts to flood the hold with CO2 were not effective, and the response team ultimately had to borrow 45,000 liters of advanced firefighting foam (AFFF) to smother the blaze. 
Uwe-Peter Schieder, vice chairman of IUMI's Loss Prevention Committee, says that container fires are even harder to fight under way. "At sea, below-deck fires cannot be fought with water and so CO2 is used instead to displace the oxygen and extinguish the fire. However, if the fire is burning within a container, the box will protect it from the CO2 and so this method of fire-fighting is rarely successful. Currently there are no other methods of fighting a container ship fire below deck [at sea]," he warned last October.
http://www.emaritimeexchange.com/wp-content/uploads/emaritime-exchange-logo-2017-300x119.png
0
0
George Ward
http://www.emaritimeexchange.com/wp-content/uploads/emaritime-exchange-logo-2017-300x119.png
George Ward
2017-02-15 18:30:00
2017-02-15 18:30:00
APL Austria Continues to Burn