On Monday, Swiss offshore construction firm Allseas Group signed a contract with Gazprom for the second string of the TurkStream gas pipeline connecting 
Allseas won the contract for the first 500 nm, 32-inch pipeline string in December. Gazprom says that the first line is intended to supply Turkish demand, while the second will be used for export to EU customers. Onshore lines will transport the gas to the Turkish border with Greece and the broader European market. If all proceeds according to schedule, construction will begin this year and both subsea pipelines will be in operation towards the end of 2019.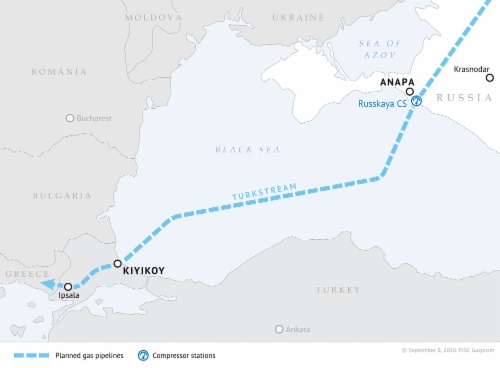 TurkStream (Türk Akımı) was conceived as an alternative to the canceled South Stream project. It was put on hold in 2015 due to diplomatic tensions between Turkey and Russia, but was finally approved in October 2016. Critics contend that there may not be enough shoreside pipeline capacity to transport so much gas from Turkey into the EU market; to address this problem, Ankara has promoted an onshore "Tesla Pipeline" to connect Gazprom's supply to Central and Southeast Europe. 
The TurkStream pipelay work will be performed by the world's largest vessel by displacement, Allseas' Pioneering Spirit. The Spirit is a single-lift platform topsides removal/installation ship, the first vessel of her kind; in addition to her unique equipment for decommissioning (see video below), she is also fitted with the world's heaviest-capacity pipelay factory, capable of handing pipe up to five feet in diameter and S-lay tensions of up to 2,000 tonnes.   
In her capacity as a heavy lift ship, the Spirit has been hired to remove Royal Dutch Shell's Brent Delta platform, scheduled for later this year. The Brent Bravo, Brent Alpha and Brent Charlie topsides are expected to follow. 
[embedded content]
http://www.emaritimeexchange.com/wp-content/uploads/emaritime-exchange-logo-2017-300x119.png
0
0
George Ward
http://www.emaritimeexchange.com/wp-content/uploads/emaritime-exchange-logo-2017-300x119.png
George Ward
2017-02-22 01:10:00
2017-02-22 01:10:00
Allseas Wins Contract for Second Half of TurkStream