Arctic cruising has captured the imagination of a futuristic designer who has developed a concept vehicle called the Resolute - an all-season, all-terrain cruise vessel designed to explore the Arctic and Antarctic regions on tracks. 
The concept has been developed by Imaginactive, a non-profit organization whose mission is to inspire the next generation to dream and then build the vehicles of tomorrow.
The vehicle, created by Charles Bombadier with designs rendered by Boris Schwarzer, would move along caterpillar tracks or on ultra-large heavy duty wheels, depending on the terrain.

 
It would be equipped with multiple engines, such as Wärtsilä turbo diesel engines or gas turbine engines, to drive its four snow tracks, and the hull would have a clearance of 2.5 meters (eight feet) to avoid larger ice chunks that would form on the trail.
 
Since the Resolute is a "cruise ship," it would stop at different locations such as outposts to permit its passengers to disembark and explore. Ski-Doo snowmobiles and Can-Am side-by-side vehicles would be available in the power sport garage located within the hull. The Resolute would also boast a helicopter or drone landing pad on its upper deck to explore nearby areas. 
The vehicle would have outdoor and indoor heated pools and a glassed-in panoramic observation deck to enjoy the outside view in comfort. A star gazing platform would allow passengers to enjoy the night sky in remote locations where auroras can frequently be seen.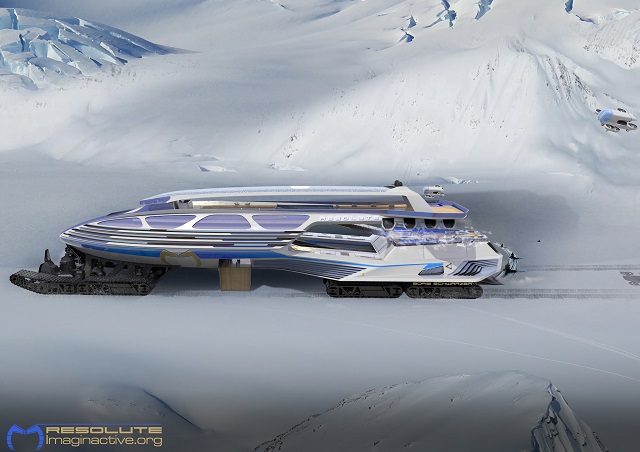 Scientific equipment and labs could also be built into the ship so that it could be used as a permanent scientific exploration base. 
"The Resolute would go out on seven-day cruising trips," says Bombadier. "It wouldn't need to be built exclusively for polar regions. For example, it could be fitted with huge all-terrain wheels, making it versatile for different terrains and locales. 
"It would probably be purchased by cruise ship operators willing to diversify their portfolio. That industry would be a fit since it already has the expertise to operate similar vessels."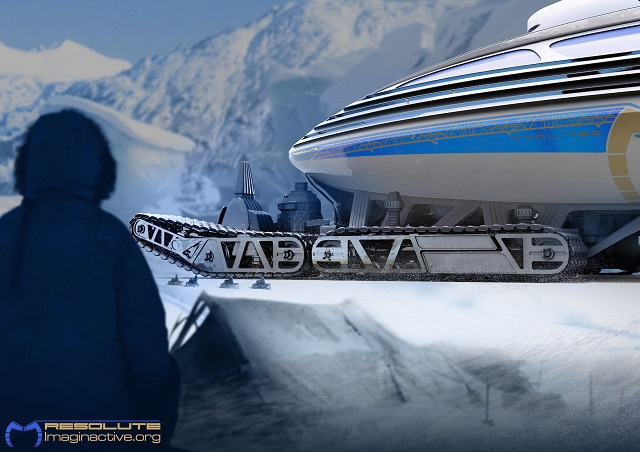 The opinions expressed herein are the author's and not necessarily those of The Maritime Executive.
http://www.emaritimeexchange.com/wp-content/uploads/emaritime-exchange-logo-2017-300x119.png
0
0
George Ward
http://www.emaritimeexchange.com/wp-content/uploads/emaritime-exchange-logo-2017-300x119.png
George Ward
2017-02-21 21:53:00
2017-02-21 21:53:00
All-Terrain Cruise "Ship" for the Arctic?